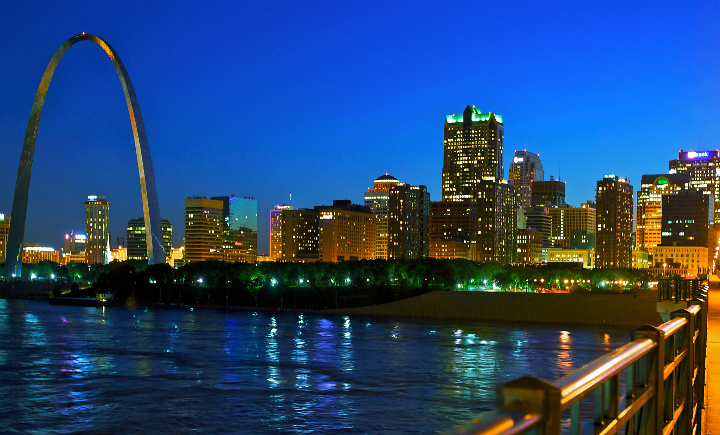 It's becoming internationally diverse, and St. Louis is working hard to attract more immigrants, says expat Mark Sutherland.
 By Mark I. Sutherland
Growing up in England in the 80s, I knew almost nothing about the United States.
My first Super Bowl, watched late at night on Channel 4, was won by the Chicago Bears and William "The Refrigerator" Perry. And my first beer was a Budweiser, with St. Louis proudly stamped on the can. So I had heard of Chicago and St. Louis, sort of. I knew of Dallas and Los Angeles thanks to various TV series, such as Dallas, CHiPs and The A-Team. And who didn't know about New York or that place in Massachusetts where a bunch of tea got dumped in the harbour during a slight disagreement in the 1700s?
But in the late 1980s, I ended up in the American Midwest. In St. Louis, Missouri, to be exact. And I've been here ever since. What I found was a friendly, welcoming city. During the past 25 years, I have watched this city, and this region, become an internationally diverse community that has managed to create a growing start-up ecosystem while becoming a leader in global distribution, manufacturing, technology, financial services, and life science.
I'm not sure many people have found that out yet. Which is why some recent moves to attract foreign talent, and to support that talent, are making expats like me pay attention.
The St. Louis Mosaic Project is a regional program that is working to transform the St. Louis region into the fastest growing metropolitan area for immigration by 2020, and they also promote regional prosperity through immigration and innovation. The program is tied to all levels of education and various internationally focused businesses, and it's driven by a number of expats and locally born individuals.
"We know from research that foreign-born people create businesses at a faster rate than native born [ones], and that is one of the ways that our region can grow," Betsy Cohen, director of the Mosaic Project, said. "We grow by foreign-born people who are here creating small or large business and hiring native-born people that are here. They are part of the growth engine for our region."
The Mosaic Project is also actively working to support expansion of the various visas available to expats who are seeking to launch businesses.
It's not just the Mosaic Project that's working to attract immigrants and make the immigration path an easier one to travel. There is also an increasing amount of available capital through entrepreneurial support programs based in the St. Louis region.
These programs include Arch Grants, which makes $50,000 grants to start-ups; SixThirty, where fintech start-ups can receive up to $100,000 in funding and mentorship; and The Yield Lab, which funds ag tech in a similar fashion to the SixThirty program. Recent expat involvement in these accelerators include Solapa4 from Argentina, miiCard from Scotland, PromisePay from Australia, and Tallyfy and Wondermento, both from England.
"We hope to become a global company headquartered in the US that will continue to grow and develop," Tomás Peña, CFO of Solapa4, said. "The biological process of the plant is always changing, and the algorithms will become more complex every day. This is a wonderful opportunity we need to take advantage of, and I think we're doing everything to get this done."
Australia's PromisePay, which received $100,000 in funding from SixThirty, has already opened an office in St. Louis.
"One of the big draws of the SixThirty program is that you get connections in financial tech," Darren McMurtrie, CXO of PromisePay, said. "Part of coming here is to become a part of that network."
With capital, immigration lobbying, support networks and more, the only thing missing is the cultural connection back to an expat's homeland. Or is it?
That's where events like the St. Louis Scottish Games, the Festival of Nations, and other international events of varying sizes step up the proverbial plate (to borrow an American baseball term). The Festival of Nations draws more than 140,000 visitors over the two-day event each year, and this year, the St. Louis Scottish Games is hosting the Masters World Championship competition, which will feature more than 150 athletes from around the world.
And they are joined by expat restaurant favorites like the Scottish Arms, a traditional British pub that is a favorite with local foodies and expats alike. Additionally, Alastair Nisbet, the owner of the Arms, is the face of Scottish food in the US thanks to a video series being rolled out on Scotland.org/scottishrecipes.
All in all, the Midwest is working hard to attract expats from around the world to come here and build a future. And from what I've seen, it is already seeing great success. So, take your business idea and take a look at St. Louis. You might just be the next expat success story on a growing list of such tales.
Follow Mark on Twitter @Markisutherland