In January 2012, I moved back to Raleigh, NC after college and military service. The quaint community I had left was gone and was replaced by a region bursting at the seams and ready to explode. This blessing in disguise helped me uncover one of the best-kept secrets in America.
The Triangle is the geographic location consisting of Raleigh, Durham and Chapel Hill. This central region of the state historically has been known for research and innovation in the life sciences and biomedical industries. It recently has begun attracting attention for its quality of life among other things.
"The quality of life here is fantastic, whether it is the people, things to do or even being able to jump in the car and be at the beach or mountains in an hour or two." said an enthusiastic Scott Moody, who recently moved to the area after completing an acquisition of his company AuthenTec while living in Florida.
Over the last two years, the old guard has taken a back seat to the exploding entrepreneurship and tech scene. The main driving source behind the growth is a never-ending pipeline of talent. With three top-tier universities within miles of each other, there is never a lack of educated people. The Triangle boasts the most PhDs per capita in the country. Smart people usually create smart products and successful companies.
During the month of May, the region experienced five IPOs. In the Triangle, many accomplished founders have given back through mentorship and advising.
And as these smart entrepreneurs turn scrappy startups into successful businesses, they learn many lessons. The more applicable knowledge gained, the higher the likelihood for success. By sharing knowledge, entrepreneurs are able to shorten each other's learning curves.
For example, WedPics founder Justin Miller recently shared how he raised over $1.1 million through local media. This pay-it-forward approach gives the regional eco-system the potential to be sustainable for the long-term.
"The driver of growth has been the leadership of local entrepreneurs. Iconic entrepreneurs are giving back to the entrepreneurial community in the form of mentorship, angel investing, and/or helping to co-found new companies," said Derrick Minor, the City of Raleigh Manger for Innovation and Entrepreneurship.
Mentors gather at multiple community spaces emerging throughout the region. Whether a location is geared towards small businesses (Entredot Innovation Centers), high-tech / high-growth companies (American Underground), or classic co-working space (HUB Raleigh), each facility serves its own role. The density and serendipity created within these spaces leads to production, education, and collaboration.
Mary-Ann Baldwin of the Raleigh City Council states, "We've been very purposeful in creating a culture that supports innovation and entrepreneurship on many levels – public sector, private sector, and within our universities."
By creating a collision of smart people and smart ideas, the Triangle has created an amazing and diverse startup community. And while many communities boast about similar attributes of talent, space, and mentorship, a key competitive advantage for the Triangle is the "non-zero sum game" mentality.
The idea that multiple companies can win is highlighted best by the craft beer industry. With more than 20 brewers in the region, it would be easy for a greedy individual to attempt to be the dominant player. But regional entrepreneurs show that this is not the case.
Each brewery wants their competitor to succeed because they realize that when one company makes it, all of them make it. This selfless attitude shines across all industries, specifically in the technology and startup space. You can call it southern hospitality mixed with healthy competition.
While southern communities are known for their manners, don't mistake kindness for weakness. The Triangle community as a whole embodies an underdog mentality. According to Adam Klein, chief strategist at American Underground, "When your region isn't top of mind nationally as a startup hub, but you want it to be, lots of people are willing to band together to make something special happen. That's occurring right now in the Triangle."
And as an underdog, the strength of the team is your greatest asset. When talented individuals stay hungry for success, amazing things can happen. If you don't believe me, I challenge you to visit the Triangle and prevent us from changing your mind.
—-
About the Author: Anthony Pompliano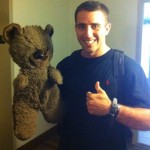 Anthony Pompliano is a military vet turned tech entrepreneur. He currently is Founder and CEO of DigaForce, a social intelligence company specializing in audience measurement. You can follow him @APompliano.