AngelList launched in 2010 with limited fanfare, but the social network for startups and angel investors is putting out some impressive numbers with its new Done Deals page. According to the latest data published by AngelList, 981 funding deals and 38 startup acquisitions have taken place since its launch.
AngelList is now a critical part of the startup ecosystem. It helps angel investors find new and interesting startups, and it's critical for signaling to potential investors. If you aren't on AngelList, you'll have a difficult time raising money. Because of the growing numbers of startup seeking funding, investors are starting to prefer watching the first few strategic moves of companies as broadcasted by their AngelList profile rather than getting cold emails from founders.
The site was co-founded by Naval Ravikant and Babak Nivi. Ravikant previously cofounded Epinions and Vast.com, and is an angel investor in Twitter, Uber, Docverse, Jambool, Mixer Labs, Fluther, and more. Nivi was previously an entrepreneur in residence at Bessemer Venture Partners and Atlas Venture. He has worked on startups including Songbird, Grockit, and Kovio. Between the two co-founders, their startup experience has clearly paid off. Not only is AngelList thriving as a startup itself, it is now the the go to site for startups who are raising money.
Despite its current success, AngelList's launch in 2010 was not welcomed by all angel investors. The site made active investors apprehensive because they thought it would cut into their deal flow. Bryce Roberts, a co-founder of O'Reilly AlphaTech Ventures, famously deleted his AngleList account stating that he didn't agree with the underlying investment philosophy of the site: that social proof is the best way to invest.
Roberts may be holding firm to his opinion, but the data shows that social proof works. Some of the companies acquired thanks to AngelList include rapportive, Forrst, and feefighters. Acquiring companies include Google, Facebook, Twitter, and LinkedIn.
AngelList's new Done Deals page details all of the investment data collected about startups through its service. You can search by year joined, round, amount raised, and investor to find out more about AngelList companies. Along with the 38 acquisitions, Done Deals lists 871 seed deals, 109 Series A deals, 18 Series B deals, and 2 Series C deals.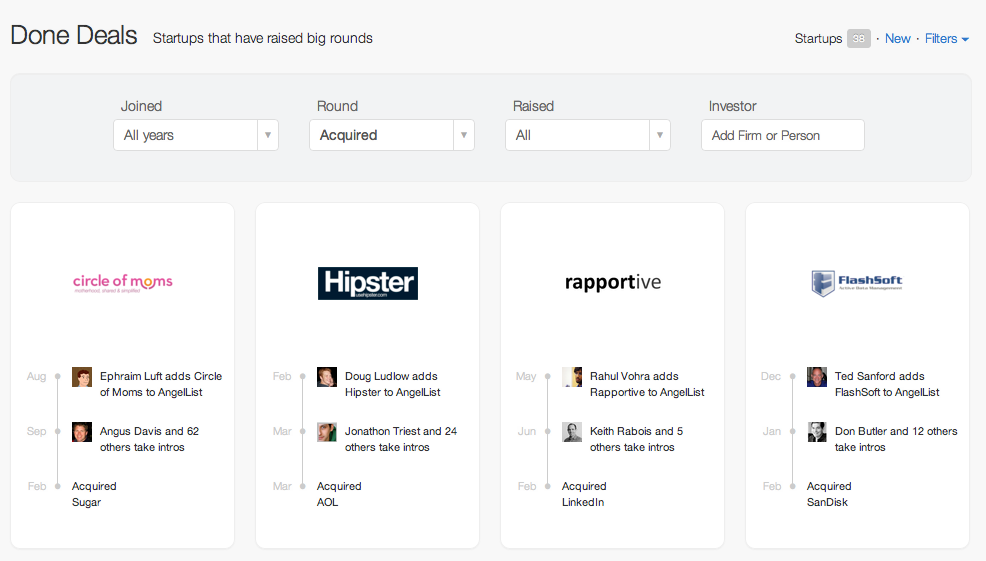 Venture capitalist Mark Suster as said that,
AngelList has been the most important Internet contribution to the angel community to come along in a while."
Based on the company's Done Deals statistics, he's right.