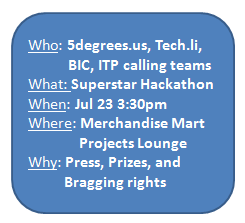 The Illinois Technology Partnership (ITP) and Built In Chicago (BIC) have joined 5Degrees.us and Tech.li in sponsoring the Superstar Hackathon July 23rd during TechWeek.
Winners of the event are going to get massive PR and press coverage from Tech.li and BIC while Lindsay Mosher of the ITP is offering free strategy consulting and 5Degrees.us has fun prizes in store.
The main prize for the winner? A guaranteed Presenter Slot in TechWeek Projects- YOUR new business will be presented to thousands!
Participants are encouraged to sign-up here:

Early-Bird Registration is $15 through July 18 and covers the cost of food and drinks which are available to the entrants throughout the hacking time.
Schedule
3:30pm: Saturday, 7/23: Kick-off at the TechWeek Projects Lounge at the Merchandise Mart
4pm: Quick pitches and matchmaking
7pm: Meet at 5Degrees office at 744 N. Wells
Saturday night thru Sunday AM –Coding, testing, refining, coding…
10am Sunday, 7/24: Q/A structured testing
1:30pm, Sunday 7/24: The Superstar Hackathon Showoff
2pm:  The judges will vote on the winners.
2:30pm: Awards, (Plus special awards for the Coolest, Best Social App, and Most Useful App.)
The overall winner will have a chance to present on-stage at Tech Week Projects at the Merchandise Mart on Monday, July 25th.
Register here: http://5degreeschihackathon.eventbrite.com/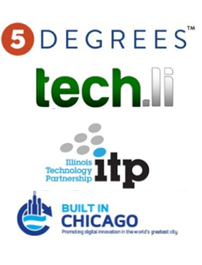 "The ITP is proud to be sponsoring such a great event," said Lindsay Mosher, Director of the ITP. "The ITP believes in encouraging entrepreneurship statewide and this Hackathon is an excellent way to do that."
Maria Katris of Built In Chicago had this to say, "Since Matt Moog started Built In Chicago last year, our goal has been to promote entrepreneurs in the Digital Technology space and the 'Superstar Hackathon' during TechWeek is a perfect example of that. We are happy to be a sponsor."
By adding the ITP and Built In Chicago as sponsors, participants will have access to four of the biggest brands in Chicago- 5 Degrees.us (of The App House), Tech.li, ITP and BIC.
See you there!