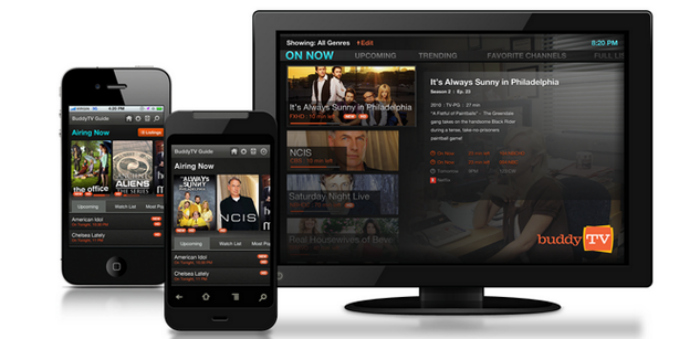 Channel surfing has become a full contact sport now that television programming has expanded to include more options than ever before. Not only are there more channels to watch, there are more ways to consume your favorite shows. BuddyTV is solving this problem with the launch of their new TV listings grid feature in their popular iOS app.
BuddyTV's listings grid is the next generation of the grid system. The grid system is a way to show programming schedules for many channels at a glance. You may recognize the grid system thanks to the paper television listings that used to appear on the coffee tables of serious TV junkies. Now BuddyTV has made the grid system interactive and easier to use.
BuddyTV CEO Andy Liu said in an interview, "the grid has been the same for quite a long time. It has been on your coffee table, then it become a scrolling feature on the TV. Then you had the electronic programming guide, but it was fairly cumbersome. We thought, 'how do we make that fast, and efficient for the end user?'".
One major usability problem with the grid system that followed each iteration as it transformed from paper to electronic scrolling is that there were always too many channels to scroll through. The TV grid feature on the Buddy TV iOS app allows users to blacklist channels that they never watch, and favorite the channels that they watch frequently. Users can scroll fast forward in time and scroll down through the date. They can also filter by genre. "You cannot do this on your traditional programming guide," adds Liu.
BuddyTV is one of the largest TV web properties, averaging between 4.5 million monthly unique visitors during the slow summer season and between 6 – 10 million monthly uniques during the fall season. Founded in 2005, BuddyTV was originally a way to aggregate users on the web who love TV shows. BuddyTV looked carefully at the mobile use case for their service. Liu says that users struggle the most with TV discovery. Finding content is difficult when there is a seemingly limitless number of choices available.
With BuddyTV's new listings grid feature for iOS, the company is delivering on Liu's mission to help people discover relevant content in less than 20 seconds. The BuddyTV Guide iOS app has been downloaded over 400,000 times since its launch in 2010. Now users can get the new listings grid when they update to version 2.6.1.