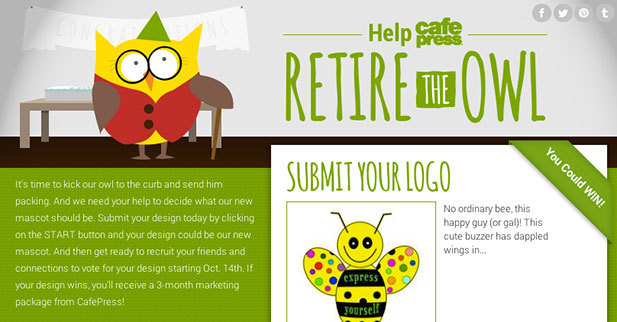 It's safe to say that I understand the culture of the mascot. Ones like the Michelin Man, Morris the Cat, even Kim Kardashian – all mascots who've seen their time come and go, and you could add CafePress's owl mascot to this list.
This is why, one must assume, the owl is heading toward retirement in a beachfront Guam retirement community.
"We recently unveiled our new e-commerce platform and tools to better allow designers and individuals with creative skills to create, share and sell products," said Sumant Sridharan, President of CafePress.com. "As we retire our owl, it allows us to pair our new platform with a new face while at the same time engaging our most valuable asset – our talented design community."
That's human resources speak for "we're putting that damn owl out to pasture."
Enter the "Retire the Owl" contest (RetireTheOwl.com) for which CafePress is inviting anyone to submit designs for a new mascot between Aug 22 – Sept. 30. Then a team of expert designers, retired owls, Guam retirement home residents, and up to 1.1 billion Facebook users will vote and select the top design via a community vote — also at RetireTheOwl.com — between October 14 – 31. The winner will be announced December 12, or National Ding-A-Ling Day, and will receive:
– a three month marketing package from CafePress;
– promotional support on CafePress.com and the company's social media forums;
– press exposure at SXSW;
– and dedicated support to help build out a successful CafePress.com profile.
So who will be the new face of CafePress? I've got my money on a panda but what the hell do I know?