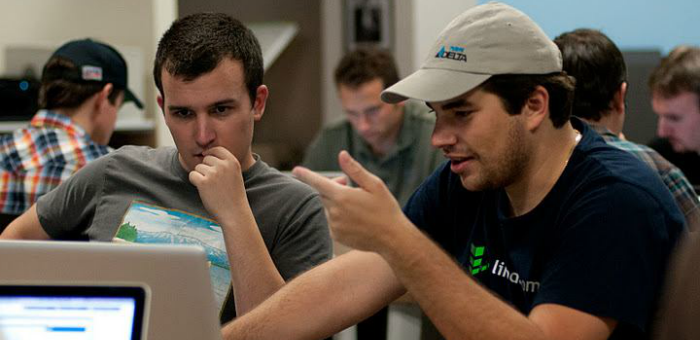 If you think that the only way to have access to a team of proven entrepreneurial mentors while building your startup is to join an accelerator, you're wrong. A new breed of ecosystem-as-a-service companies is providing a place for entrepreneurs to work together and learn without forcing them to give away equity in exchange for investment. A new 22,000 square foot facility in Austin, Texas, is providing entrepreneurs with a place to work and learn for as little at $150 per month.
Capital Factory is located on the 16th floor of the Austin Centre complex at 701 Brazos Street. The facility is managed by Cospace, a popular coworking program that has already assisted more than 20 startups grow using its workspace and educational programs.
The facility is like a startup scene on steroids as it brings together the best of Austin technology talent and condenses it into one space. Capital Factory is a joint venture between Greater Austin Chamber of Commerce and Joshua Baer, who is an informal ambassador to the Austin startup community. Baer is currently the Founder and CEO at OtherInbox, the organizer of Ignite Austin, and on the board of directors of WP Engine – in addition to his role as managing director of the Capital Factory program.
Capital Factory was originally founded by Baer in 2009, as a traditional accelerator akin to TechStars and Y Combinator. The new configuration of Capital Factory is closer to the General Assembly model that exists in London and New York City. General Assembly provides a physical location for early stage startups to grow while doubling as a startup community events space for hosting meetups and formal classes.
Although the classes have yet to be announced, Capital Factory will most likely be offering programs in lean startup methodology, scaling, customer discovery, and user experience design based on the program history of Cospace. It will certainly have diverse and experienced instructors who are at the peak of their industries thanks to the depth and breadth of the talent pool in Austin.
Other big names in the Austin startup community that are supporting Capital Factory include Ross Buhrdorf, CTO of HomeAway, and Bill Boebel, co-founder of Webmail.us (acquired by Rackspace).
The facility is one of five initiatives that is partnering with the Austin TechLive initiative to grow Austin's downtown into a center for technology and creative entrepreneurship. Austin TechLive is supported by the Chamber's Opportunity Austin funding. The four other partners in the initiative include General Assembly, University of Texas-Austin, Texas State University, and SXSW.
The low barrier to membership is also an attractive selling point for new entrepreneurs. $150 a month gets them unassigned seating in the space, while $750 a month gets dedicated desk space. For less than the cost of one microbrew per day, entrepreneurs can launch their startup while sitting next to talented contributors who are also working on the next big thing in technology.
Since launch day, every seat in Capital Factory has been full, with a long waiting list. All eyes should be on Austin in the coming year to see the first results launch out of the Capital Factory facility.
Images courtesy of Cospace.