Today marks the third annual 4sqDay, celebrating the success of the location-based check-in app Foursquare. To celebrate, more than 730 meetups are planned in communities around the world, and real life mayors of 18 cities have issued official 4sqDay proclamations.
Founded in 2010, 4sqDay was a grassroots effort by Foursquare fans in Tampa, Florida, which was embraced by the company. The idea has morphed from being a fun social media holiday to a way for cities to promote themselves through meetups and local business specials.
Nate Bonilla-Warford, the founder of 4sqday, is an eye doctor who was an early adopter of Foursquare. He wanted to check in each year on April 16th (since 4 is the square route of 16) to celebrate all things Foursquare. Little did Bonilla-Warford know that his enthusiasm for geek holidays like Pi Day and Star Wars Day would help him turn 4sqDay into an international social media celebration. When Foursquare founder Dennis Crowley tweeted the company's support for the official 4sqday, Bonilla-Warford knew that an idea that made him laugh a little had the potential to be huge.
Last year, close to 700 official 4sqday meetups took place around the world, with over 3 million check-ins taking place. This year, that number is expected to increase thanks to Foursquare's impressive user growth.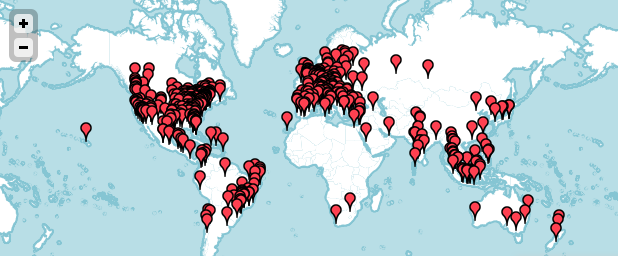 Want to celebrate with millions of other Foursquare users? Here are a few tips to help you get the most out of 4sqday:
1) Celebrate with free food and booze.
If you live in Portland, Oregon, you can get a free giant pizza slice at Pizza Schmizza if you check in at any of its 20 participating locations between 2-6pm. The first 50 Foursquare fans in Istanbul, Turkey, who check in at the official 4sqday event at Istiklal Avenue after 7pm will receive free vodka shots.
2) Meet Foursquare friends in real life.
New York City has two 4sqday meetups today. New Yorkers can choose to join fellow Foursquare fans at The Caulfield or at the Village Pourhouse. The Foursquare team is going to be on location at both parties the celebrate with fans.
3) Throw down in a real life game of foursquare.
The Social Media Club of Philadelphia is hosting a Hunger Games Foursquare mashup called 2012 4sqDay Games. If you live in Philadelphia, you can watch the game live at 7:30 pm at the Marion Anderson Rec Center. Players will be Tributes from several "districts" (aka community organizations): SMC Philly, Indy Hall, Inliquid, PANMA, P'unk Ave, William Way Center, Geekadelphia, and Technically Philly. If you can't be there, you can watch it live on UStream.
4) Support a local charity.
The 4sqday event organizers in Houston, Texas, have teamed up with their local Ronald McDonald House. For each check-in at the Firkin & Phoenix event venue, at least $2 will be donated to the charity. The San Francisco event at Perfect Catch will also raise money for the San Francisco & Marin Food Bank. Last year, it raised over $6,000 for tsunami relief.
5) Get a massage.
The IKEA store in Tampa, Florida, is offering a free 16 Minute Massage to Foursquare users who check in at the store from 11am to 3pm.
6) Explore new places.
If you haven't used the Foursquare explore feature to try new places, take it for a spin it today and discover something interesting in your city. Instead of going to your regular hangouts, try planning your day around places your friends have visited using Explore. You might even find a new favorite spot.
7) Meet the mayor of your favorite local restaurant, coffeeshop, or bar.
Don't like crowds, but still want to get a little social on 4sqday? Try hanging around some of your favorite places and scout out the mayor. Chances are, you've seen this person's face and their tips every time you check in. Why not introduce yourself? It's a great way to meet someone new.
To find meetups in your city, check out the 4sqday Meetup page. Use the hashtag #4sqDay on Twitter to participate online.