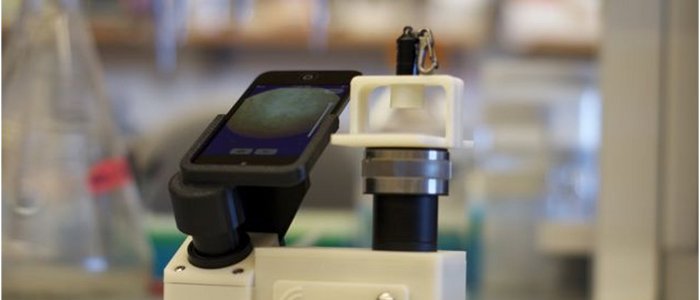 The next time your kid has a fever you might be able to skip the doctor's office.
CellScope has developed an otoscope that attaches to any smartphone camera lens, allowing parents to take and send an image of a child's inner ear to a pediatrician at another location to make a diagnosis. While circumventing the traditional diagnostic process might rattle parents and doctors alike, CellScope's smartphone-enabled otoscope could help families cut back on the almost 30 million ear-infection related doctor visits a year.
"We are leveraging the ubiquity of mobile devices to extend and improve care," said CellScope CEO Erik Douglas, in a press release.
Remote diagnosis technology to date has remained limited, and is usually confined to connections between medical establishments or liability-shy services like WebMD. CellScope, which the developers call a "digital first aid kit," is intended to ease users into the paradigm starting with pediatrics, and with a familiar and commonly-diagnosed field of ailments.
The specter of malpractice, as well as parental concerns over the quality of the technology, seem like they could pose a threat to the platform's commercial success. Founder Erik Douglas, though, says the onus is the medical professionals' to call a child in for an in-person examination if there is any question about the imagery.
"We can transmit the image and symptom information to aid the doctor in diagnosis, but if he wants a closer look he can always have the patient come in to the office," Douglas said. "Most pediatricians we've talked with have been very positive, especially once they they try it."
CellScope secured $1 million from Khosla Ventures to develop hardware and software that could push the limits of remote health care services. The developers believe smartphone saturation could provide the convenience that will let the technology take off. The otoscope, currently in pilots across the U.S., is the first of the projects. The company was also a part of the Rock Health inaugural class, a seed accelerator for health startups based in San Francisco.
"Companies like Cellscope [sic], who are rethinking consumer health, have the power to transform our very large and complex health care system," says Halle Tecco, CEO of Rock Health. "We are proud to support innovators like Amy and Erik who are moving the digital health ecosystem forward."
Cellscope plans to expand the platform to include throat and skin exams. There could be other lucrative avenues for technology based on the platform. The company has raised the possibility, for example, of non-clinical applications including skin care.
Image: CellScope