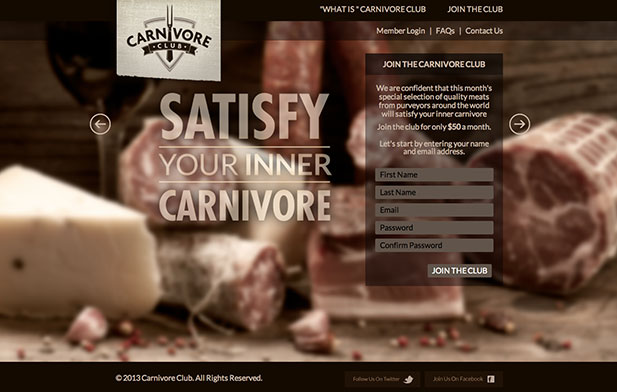 Are you looking for new ways to meet meat? A new startup in Canada has just the thing.  Successful entrepreneurs and serious foodies Tim Ray and Matthew Cloutier are the founders of Carnivore Club, an exclusive, epicurean meat-of-the-month club.  They went live on Indiegogo this morning, and they're looking to raise $10,000 to help secure a successful launch for their company.  But, they're not using the popular crowdfunding site to necessarily fund their business.
Ray and Cloutier are primarily bootstrapping this new venture, having each invested their own money to start it.  What they're looking for is people to try their subscription service.  I caught up with Ray, who is currently in France discovering exciting new meats for the business, and he explained, "We're not necessarily trying to crowdfund to launch the business.  We're using crowdfunding as a platform to hit the ground running and sign up members off the bat instead of using other forms of advertising. We think Indiegogo is a great platform and will help us raise awareness for our launch."
They've set a target of $10,000, which translates in theory to at least 200 people who will receive the first monthly subscription box.  That is if people choose the $50 pledge option.  And, it's a pretty good deal.  With a $50 pledge, you'll receive a premier Carnivore Club box filled with five curated meats packed in an autographed box.  And Ray has assured me it will be a wow box with one of those meats being Pata Negra.  "They age it in these caves for four years, and it's the most expensive meat you've ever had.  It's $140 a pound to buy this stuff," said Ray.  "It melts in your mouth; it tastes like butter. That's one of my favorites."
While this particular meat won't be available in every box, they'll be including lots of other "really cool items imported from Europe" in the boxes.  Other pledge options include an invite to the Carnivore Club launch party in Toronto for $25 to the ultimate Carnivore Club Pilgrimage for $3,500, with many additional options in between.  The pilgrimage features a two-week tour of medieval towns in Spain, Italy and France to taste charcuterie from the maestros themselves with Ray and Cloutier next summer.
While Indiegogo is a great crowdfunding site, it can be hard to be successful.  To help with that, Ray and his team put together a marketing campaign to help gain attention.  And, gain attention it does.  (Fair Warning: There is strong language used in the beginning, so make sure children are not within earshot.)
While you may or may not agree with the humor here, it's meant to be just a little harmless fun. "Women love meat too, but we wanted to have a lot of fun with the brand from a male angle.  We think that it's going to be a fun venture," said Ray.  "It's funny.  So many people have said you really could have not used the F-Bomb, and especially with the jerky at the end, there were different cuts, but we thought part of it is being true to who we are.  It's for a joke, and hopefully people can appreciate what it is."
The monthly subscription service will be launching next month, with the first subscription boxes being sent the end of October.  But that's not all they have in store.  They're also working on an e-commerce marketplace for small-time food producers.  This will allow individuals to purchase additional quantities of their favorite meats featured within the monthly subscription service.  Right now, they're aiming to have that available by mid-November, just in time for Christmas.
What do you think? Will you support this meat-of-the-month club on Indiegogo?  If anything, it might be something to remember when looking for the perfect present for the guy (or gal) in your life this Christmas.  Check out their campaign on Indiegogo here.