CORTEX, St. Louis' growing bioscience research park, has just closed a deal that will push the tech district toward completing Phase II of its 20 year plan. Held up over the last few months due to complaints over minority workforce participation, the Heritage warehouse has officially been sold to Baltimore-headquartered Wexford Science and Technology this past week in a deal worth $84 million.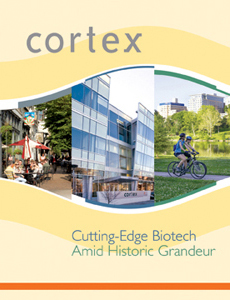 The recently-begun renovation of the 190,000 square-foot warehouse is only one part of the tech district's plan for Phase II, which is expected to bring 1,400 new jobs to St. Louis. In addition to the Heritage warehouse building, Wexford has purchased the CORTEX I facility for $26 million.
"We have been working on the Heritage project with Wexford for two years, encountering a number of obstacles along the way," said CORTEX president and CEO Dennis Lower. "I am thrilled to say that we overcame each challenge and persevered to close the deal. It is a testimony to the quality of our private sector partner that we are now poised to add much needed lab and office space to the CORTEX District."
The renovated warehouse will be turned into lab and office space, and according to Lower Wexford has already begun work on the project.
St. Louis healthcare company BJC is also in the midst of constructing a 200,000 square-foot office building that will make up the third part of CORTEX's Phase II. According to CORTEX, Phase II is expected to be completed over the next year , with the final phase of development wrapping up sometime before 2040. Lower said the BJC office building will be completed in the Fall of 2013, and the Heritage warehouse renovations sometime later in the year.
"We are also in the process of designing the infrastructure associated with Phase II, streetscapes surrounding these two buildings and the CORTEX Commons," said Lower. "Construction on these elements should begin in June." The CEO revealed that discussions have already begun concerning the third phase of the St. Louis research park, though there is currently no timeline for the future initiative.