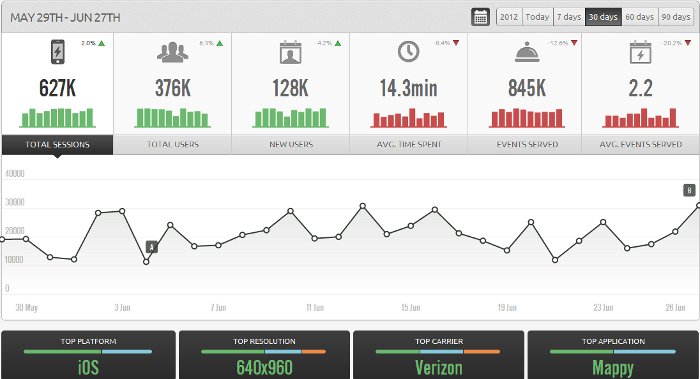 A team of developers in Istanbul has released a new tool in the nascent field of mobile analytics. The problem, they say, is that many app developers have limited access to data on who's using their software – and what they're doing with it.
That data can take the form of downloads, carrier, physical location, or operating system, any of which could come in handy when developers need to improve engagement, or understand bottlenecks and issues.
For example, said founder Onur Alp Soner, developers can use Countly for "identifying in-app purchase patterns and defining the best patterns for payment is a crucial factor towards making more money in e-books and games. Experts then can find out why an estimated pattern is not followed, and decide to change application mechanics, in order to turn lurkers into paying subscribers."
The project began as a discussion over coffee, when Soner and three peers in the Turkish entrepreneurial community discovered their shared interest in mobile analytics. Following development and a six month prototype period, the first public version was released in June.
The team is still considering business models, but Soner says the primary goal is to increase their install base while improving the software. They've been listening to user input, and are considering a growing list of features including retention analysis, multi-user support and funnel tracking. The slick user interface has been well-received, according to Soner.
"Since Countly is open source, community feedback means a lot to us so we plan to adjust our roadmap according to user needs and suggestions," he said.
Though mobile analytics is a young industry – Soner said that only around one in five apps is monitoring usage effectively – it's an increasingly crowded field, reflecting its potential. Countly will be competing against better-established outfits including Mixpanel and Flurry.
What Soner hopes will set the project apart is a dedication to making it the best tool available, an effort he believes will be bolstered by the team's dedication to making Countly's code open source. The first bug entered in the issue database, he joked, was "Countly is not yet world's best mobile analytics software."
Countly is currently bootstrapped, but has been in contact with investors in the United States.
Image: Countly