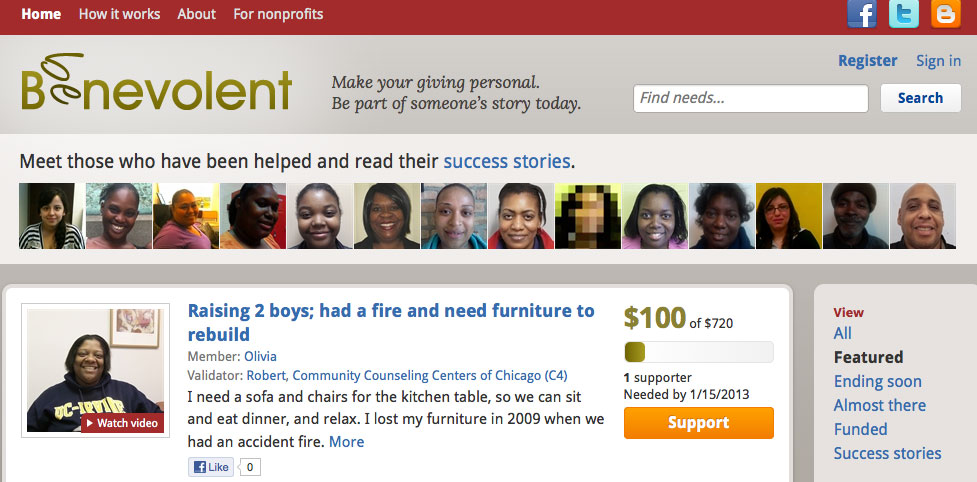 Chicago-based nonprofit Benevolent announced plans for national expansion during a forum on innovation in philanthropy sponsored by the White House Office of Social Innovation and Civic Participation in September.
The multi-city expansion, including a partnership with Los Angeles-based PATH, a well-established social services agency assisting the homeless, allows Benevolent to strive to reach the goal of connecting more low-income adults with specific needs to prospective donors.
According Benevolent Founder & CEO Megan Kashner, a self-described social worker with an MBA, the idea for creating Benevolent grew out of her frustration from seeing clients, on the verge of betterment, thwarted by unique needs that were often unmet. Benevolent strives to provide assistance for these one-time needs and keep individuals from falling through the cracks of the social services system.
"I saw clients who were ready to take that next step in their lives, whether it was leaving an abusive situation or landing a new job, and they were unable to reach their goal due to a car breaking down, or lack of funding for a security deposit, or needing a computer for online classes. These were simple needs that the system was unable to meet."
Benevolent uses a social media platform to drive its crowdfunding site. Low-income adults with one-time needs are referred to Benevolent from traditional nonprofit agencies. After their individual needs validated, the individuals tell their own stories, which are uploaded to Benevolent's site, providing a platform for choice and direct personal giving. Social media and e-mail campaigns draw donors to Benevolent.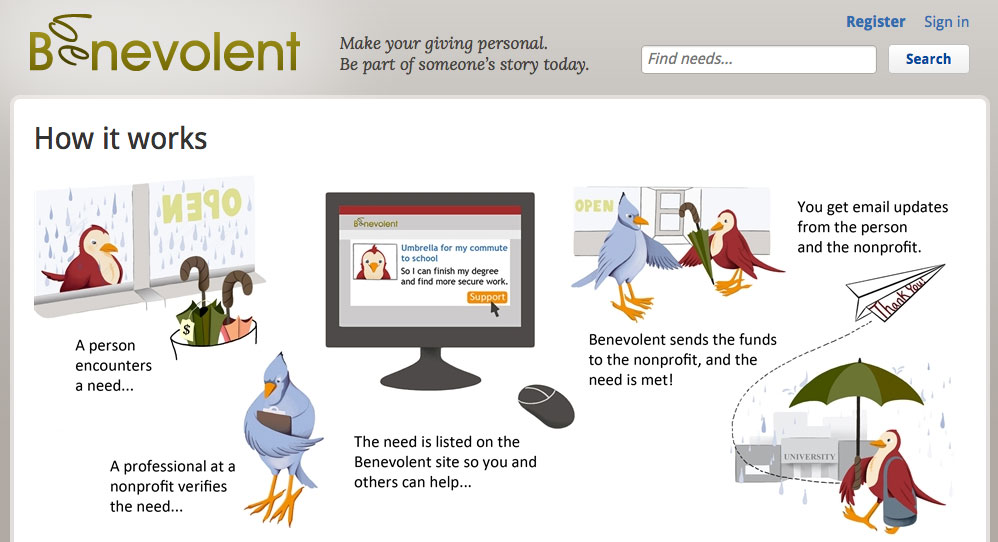 "Our recipients have real, tangible needs. By providing a place for them to tell their own stories, we're making it possible for those with needs to connect with those who can help," said Kashner. "Benevolent is all about providing dignity to the process. Their stories are real, and they are compelling."
According to Kashner, donors today are increasingly searching for more information, such as who they are helping and how they are helping them. "Giving through Benevolent is very different than any other donating experience," Kashner said. "In addition to having clients tell their own story, we are able to post a follow-up from a recipient and provide a thank-you to the donor. We're able to help keep the communication open on what happens with these specific donations."
So far, Benevolent has helped 40 recipients with a variety of one-time needs through contributions from over 360 donors, totaling more than $18,000. Each need is posted with an expiration date, and caps are in place so that gross overfunding of a stated need is not allowed. Benevolent's success rate is about 80 percent; the average donor gives about $50.
In addition to the recent expansion announcement, plans are in the works for the launch of a Benevolent mobile app, which would allow prospective donors not only to donate, but to tap to indicate when the impulse to give strikes. After 4 or 5 taps, the app will ask the user if they are ready to make a contribution. "Giving is such a tangible thing, and many of us need to put a human face on it," said Kashner. "We may see someone in need, but we may not always be able to do something about it at the moment. Tapping the app will provide a link to actionable compassion, and serve as a reminder about the desire to give."