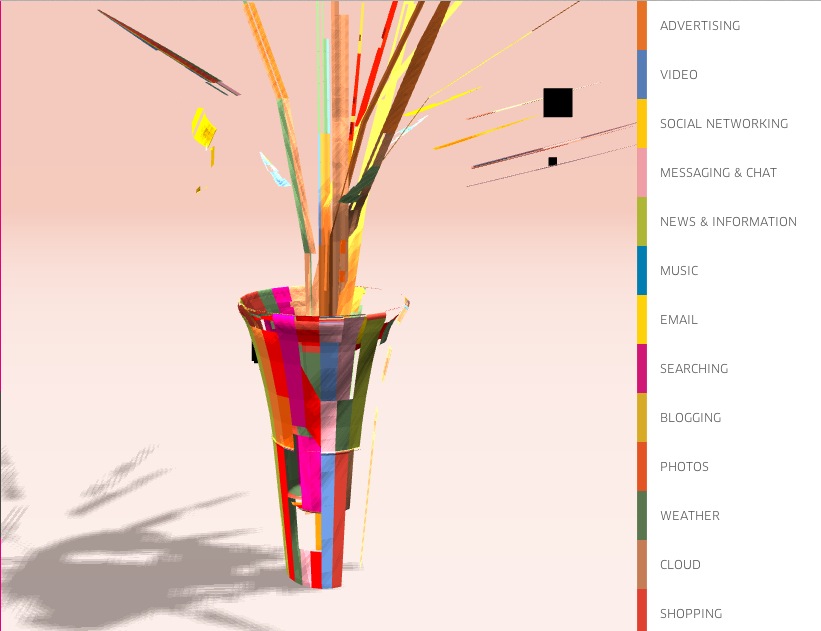 In a pairing with telecommunications company Alcatel-Lucent and musician Paul Humphreys, tech conscious author Douglas Coupland has created an artistic audio-visual representation of internet traffic data. The art project, called Electric Ikebana, creates interactive flower arrangements that are proportionately pieced together by sectors of internet data such as messaging, social network activity, email, and more.
The art project, subtitled "the voice of the network," features snippets of Coupland's own work relating to technology as well as the work of Claude Shannon, a Bell Labs researcher who discovered information theory in 1948. The pieces of text are intermittently read by computer synthesized voices over a musical track composed by Humphreys. Coupland came to the idea of the data creating a flower arrangement from his experience learning Ikebana while attending art school in Japan.
"I look at movies and TV from the 1970s and 1980s and feel sorry for people back then because of how little technology they had. And yet, at the same time, I miss my pre-internet brain," a robotic female voice laments in one instance as the arrangement is created.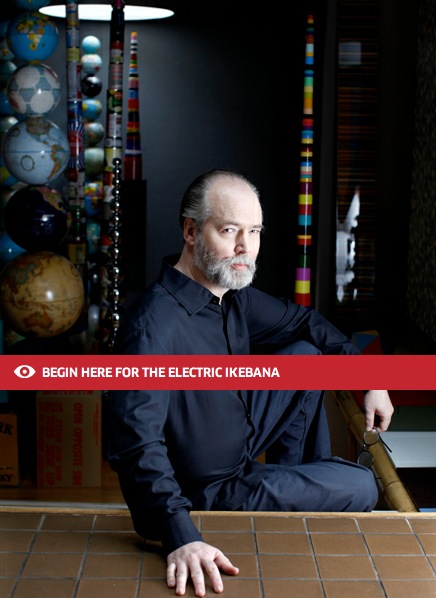 According to Coupland, the flower is unique to each user and will vary depending on what time of the day the data is collected. The multi-dimensional representation can be zoomed and rotated by users, reflecting their own data usage as well as that of the rest of the world. "I hope it is both intimate yet global," Coupland wrote.
Just last month Coupland unveiled a new utility pole for the digital age that is expected to be launched in his home city of Vancouver. The pole will feature Alcatel-Lucent's lightRadio Cube – an extremely compact wireless broadband replacement for cellphone towers.
The Canadian author has been writing about technology's growing relevance to our everyday lives since the mid 2000s, and the new art project aims to highlight technology's now-inseparable place in our society.
"Data is both alive and a reflection of life," Coupland wrote. "I know that my relationship to time, information, memory, and speed is very different than it was two decades ago."
The audio-visual art project can be accessed through Alcatel-Lucent's company website. Head on over to watch your online data come alive.