Appek Mobile Apps, a Pennsylvania-based startup, recently launched their first standalone game for the iPad, Face-Invaders. Face-Invaders takes the concept of the classic arcade game Space Invaders and adds a unique social spin – instead of shooting down aliens, you shoot down your Facebook friends. "We married Space Invaders and Facebook to bring players a personalized gaming experience" said Adam Ceresko, CEO of Appek.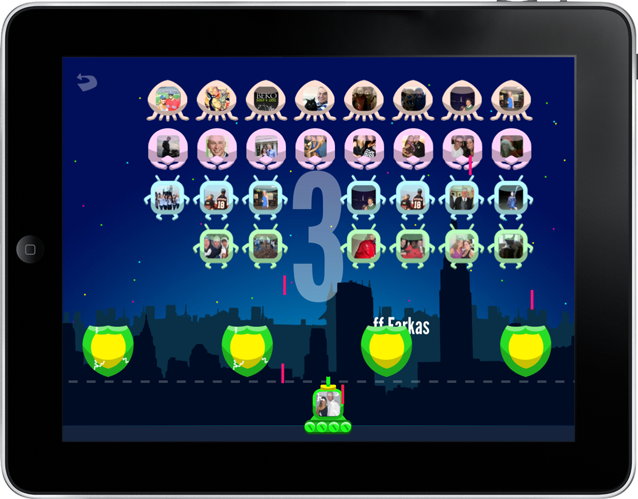 Similar to the classic arcade game, the "invaders" move in a downward motion toward the bottom of the screen while attacking the player with their laser cannons. The player is protected from the offensive attack of the invaders by four shields and is allotted three lives to survive the invasion. As more friends are defeated the speed and firing rate of the remaining invaders increases. After the wave of invaders is defeated, a much larger "boss" invader appears on the screen and begins attacking the player.
Similar to the wave of invaders, the boss invader is also embodied by the profile picture of a random Facebook friend of the player. Each invader has a value of one point, while boss invaders bring in a total of 15 points. The game has a built in leader board and also allows you to post high scores on your Facebook Timeline.
Although I'm terrible at the game, I do get a small sense of serenity as I blow up my friends and see their names roll across the screen. The game is addicting, it brings back memories of a classic arcade game while leaving you feeling guilty (or satisfied) for destroying your friends from high school. You can try it too – it's available for $1.99 in the App Store.
[youtube id="UI3EC01aiFc" width="600″ height="350″]