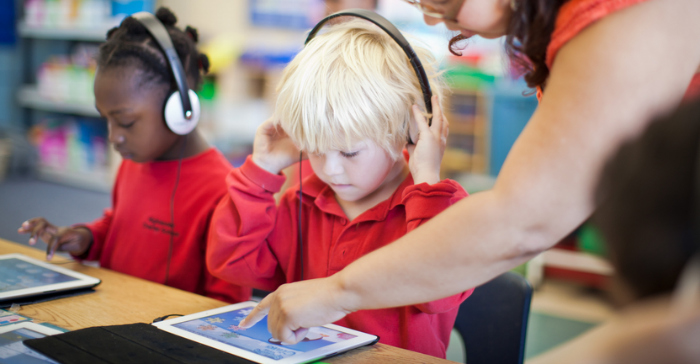 The University of Missouri–St. Louis will welcome Apple executive Joel Davies, who works in the company's higher education curriculum development, as part of the Focus On Teaching and Technology Conference that will take place November 1 and 2 at the school's campus. Nearly 300 college and university professors from 31 universities in Illinois and Missouri will attend the conference.
The first day will feature workshops that will explore how technology can be used to enhance the classroom experience. Some of the workshops include: "Designing, Implementing and Assessing Technology Based Assignments", and "Using Google and Prezi Sites to Extend Learning and Collaborating Beyond the Classroom". Davies will be the keynote speaker on the first day of programming, and he will specifically talk about "making the move to a flipped classroom" by encouraging teachers to become coaches rather than lecturers. Prior to joining Apple, Davies spent 13 years as an Associate Professor of Design and Development at Creighton University.
Professors will continue with their presentations on the second day, including the following: "Twitter in University Classrooms: Opportunities and Cautions", and a hands-on session: "Creating Prezi Presentations". Dr. Megan Bradley, a Developmental Psychologist Professor in the Department of Psychology at Frostburg State University in Maryland will present the keynote: "The Top Pedagogical Techniques That Can Improve Student Learning in Any Course:, followed by a workshop that will review Dr. Bradley's "Train Your Brain" series. According to the program description, "The overall goal of the 'Train Your Brain' program is to help students acquire a growth mindset where they approach their education by taking academic risks, asking for help when needed, learning from mistakes, and redoubling their efforts when work is challenging".
Conferences like this are critical in an era where the benefits of getting a college education are being questioned by startups who are offering courses at a lower price and tailored to an audience that prefers digital communication. Apple clearly has a stake in the future of education thanks to tremendous effect that Apple's iPad has had on learning apps in the past few years. Joel Davies is the perfect ambassador that can bridge the relationship between Apple and cutting edge educators who are open to innovation in education because he is an educator himself.
Image courtesy of the New England Post.