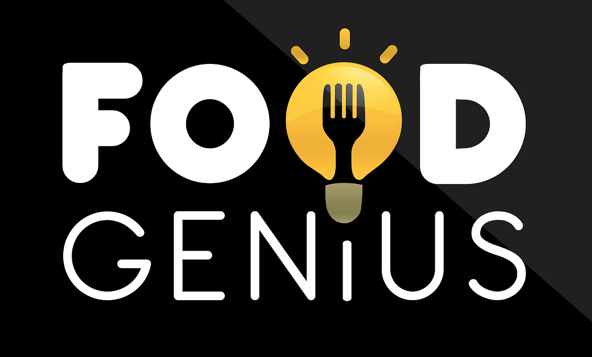 Industries are craving better data aggregation to help companies rise above competition. Food Genius does this to help the food and restaurant industry provide quality, creative menu items to customers.
"I think it's a question of 'How do you craft really fantastic food products, and then bring those products to people?'" said Justin Massa, Food Genius CEO.
Food Genius has seen success in two years of operation, but they've also been through a journey of change and learning that led them to ultimately revolutionize data management in the food industry.
The company grew its roots in Chicago startup incubator, Exelerate Labs, in 2011. It began as a way to help consumers search for food by menu items rather than by restaurant.
And since the launch of "Food Genius Reports" in January, Food Genius has been named as one of the "Top 100 most brilliant companies for 2013" by Entrepreneur Magazine and as "1 of 14 startups that will change the way you eat" by Business Insider. In September 2012, the company secured $1.2 million in venture capital.
The company has the only business intelligence license to Grub Hub's menu data, which includes Grub Hub's proper site and allmenus.com.
Food Genius takes menu information from more than 300,000 restaurant locations and more than 100,000 unique menus. The company aggregates menu data then delivers this data to members of the food industry.
But they do it in a way that's user friendly.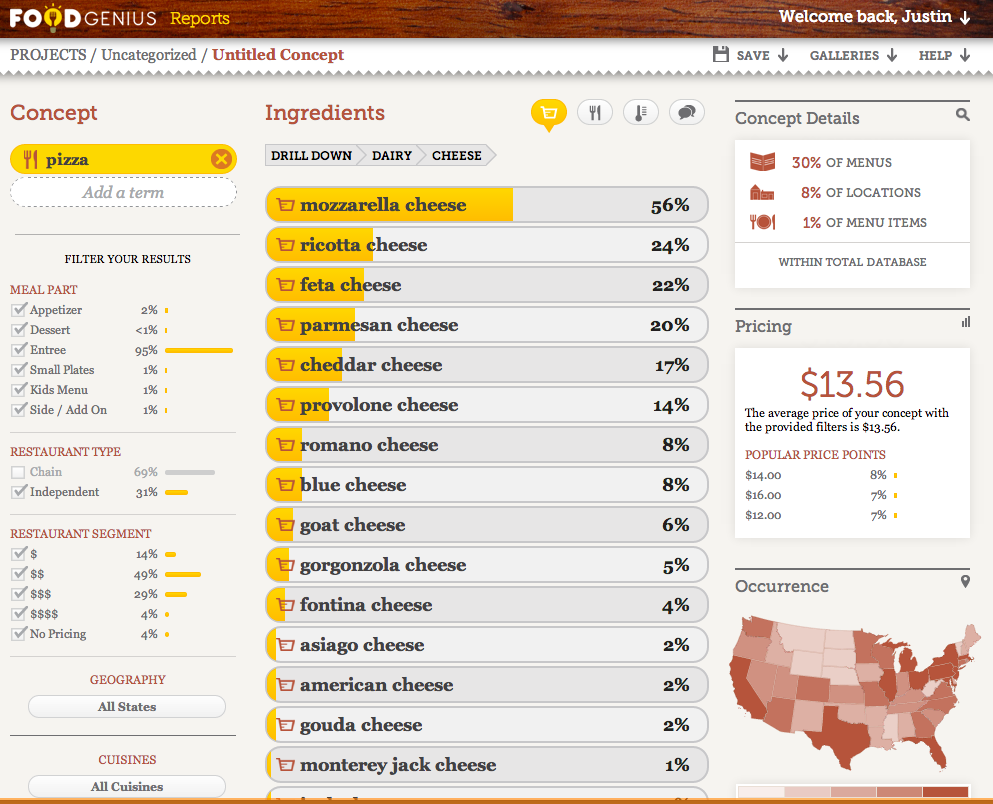 The company can tell you that 85 percent of pizzas in America contain cheese, and of that percentage, 56 percent have mozzarella cheese. Ricotta cheese comes in second, and feta in third. Users can also search in multiple ways to see what types of meats and veggies are used amongst other ingredients.
More specifically, they can also filter to see what kinds of combinations of ingredients are used. Users can also search by location and find that feta cheese is used 6 percent less in the Northeast than other areas in America, for example.
"If I'm a company that makes feta, I should see that as an opportunity," Massa said, showing that his data does not only apply to immediate members of the restaurant industry, but distributors as well.
Massa said more than 8 billion permutations can be created from the data aggregated, and he says the success of the product comes from the ability to have expansive data, which the company calls its "genome" with specific taxonomies that can be searched in various ways.
In Massa's experience, he has seen a great demand for expansive data aggregation, which he says most companies are approaching on a surface level. Some of his influences are from music and fashion industries, with companies such as Next Big Sound and EDITD.
"Instead of going incredibly broad, we go incredibly deep," he said. "The challenge with the data business is it's very easy to come up with this laundry list of all of the questions that you have the ability to answer with data."
Instead of being prescriptive and telling his clients how to use the information to craft their menus and products, Massa tries to be very descriptive of the data, making Food Genius "the Nate Silver of food," he said.
The user-friendly interface helps clients navigate the store of descriptions. Though it may be the aggregator's job to make the product as easy to use as possible, Massa said it's also partly the business's job to understand its brand and long-term strategy.
This keeps Food Genius somewhat exclusive in the way it shares its genome, as their client base is small, and they intend to keep it that way. "Our job went from having as many customers as we possibly can to having few customers with very deep relations," Massa said.
"It's a very different proposition to build relationships with companies and figure out what questions will they pay someone to answer for them," he said. "I encourage data providers to spend a long time to figure out how to answer those kind of questions."
And by answering these questions, the Food Genius team hopes to inspire an exciting array of new menu items on plates across America.