In a move that could be read as a quiet admission of the merits of more traditional desktop operating system design models, Google's Chrome OS will soon cede its characteristic browser-only interface in favor of a more balanced desktop that will include a file browser and a taskbar.
A new Chrome OS developer build changes the operating system's reductive, browser-centric interface, letting users run multiple windows and displaying shortcuts, clock, and battery information in a taskbar the company is calling "the shelf." Taken together, the interface changes do much to mold the cloud-centric operating system into a form much more akin to Microsoft's Windows and Apple's OS X.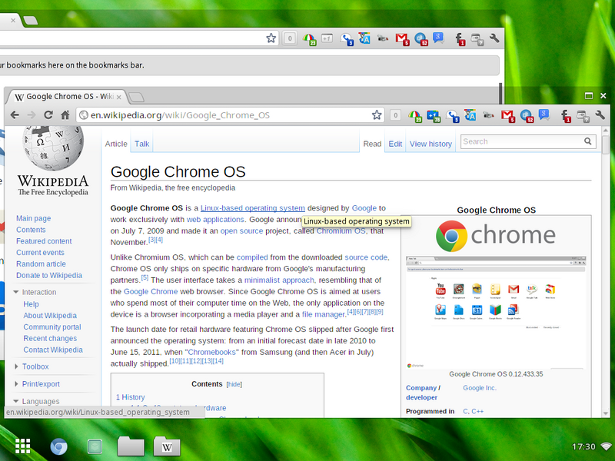 Google has not commented on the new window manager, which is called Aura, but critics and users have weighed in.
"In a way, this almost feels as if Google is admitting defeat here," wrote TechCrunch's Frederic Lardinois, noting that when "Chrome OS launched, Google's Sergey Brin argued that traditional PC operating systems were 'torturing users.'"
Other commenters riffed on the fact that if users are unhappy with a Chrome OS update, they could switch to another Linux distribution that better suited their needs.
"I bet they are not worried about the fact that Chrome freezes a tad too often these days," wrote commenter Rohan Pawale. "And if they made the move and aggregated all our data, we always have beloved Ubuntu to look forward to!"
Google released the source code to Chrome OS in 2009, and distributed tens of thousands of notebooks running the operating system in 2010 to testers. In 2011, Acer and Samsung released computers that run the operating system.
Chromebooks were received well in some circles, where they were lauded for bold differences in vision from traditional laptop computers, but were criticized for becoming less useful when an internet connection was not present.
Chrome OS is not Google's only foray into the world of operating systems. The company's Android project, another Linux-based system, is designed to run on tablets and mobile devices, and has captured significant market share since its first release in 2007.
Image: Wikimedia