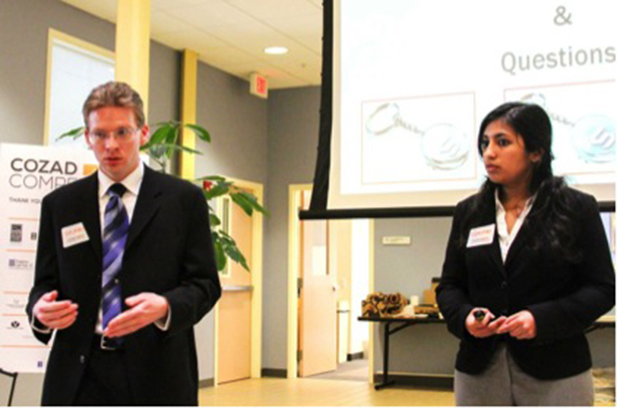 When it comes to a startup, there are many factors that have to be present for it to be successful.  Of course, you have to have a great idea. But that doesn't build the company alone.  It takes teamwork, funding, a support system, and the drive and passion to see the idea through.  Servabo is one such company that is firing on all cylinders.
The Idea
The company aims to bring an alerting device that you can carry with you anywhere to market. All Alert is a small Bluetooth enabled device that can be integrated into personal accessories such as key chains, necklaces and wristbands. It interacts with your smartphone to help you alert your emergency contacts in case you're in danger.
Choose your preferred plan of attack (no pun intended…). It can send custom alerts via voice message, text message, email, or social media sites. The device can even flash lights and sound alarms to draw attention to your emergency.
"The word Servabo, at its root means 'I will keep', explained co-founder Tim Deppen. "Hence our company motto, 'We are here to keep you safe and secure."
If you're a single female- like me wink wink– you don't always feel safe walking alone at night. If I am in jeopardy of getting assaulted, mugged or worse, having a device that can quickly alert friends or family of my location and situation is absolutely something I would use.
Now that the team has "struck it big" they plan on turning their vision into a reality. While they have a working prototype, Ismail says they want to refine it and run some beta tests.
"By fall, we will have a ready product and a Kickstarter campaign. That is our goal for this money," Nishana Ismail, Servabo's co-founder said.
The Team
It's all about teamwork.
"I am the more visionary and dreamer type and he is the plan, organize, do person," said Ismail about her partner Tim Deppen.
"We trust each other. From that trust comes respect. We have each other's and the company's best interests at heart. We are both advocating for the company," Deppen explained when asked why they make such a good team.
The Funding
This team that is creating a self-protection technology company also won first place in the 13th annual Cozad New Venture Competition at the University of Illinois.
Nothing reassures a startup like winning $25,000 in funding and almost as much in prizes and services. That's what put Servabo into gear earlier this month.
The Support System
When asked if they would stay in Champaign to grow their company, Deppen said, "Definitely.  We wouldn't have gotten this far anywhere else."
He said it was because of this community that Servabo has gone from no business sense last November to, "I'd like to say we are proud of the fact that we beat a team [in Cozad] with 20 years of combined business and startup experience."
It was going to nearby startups like Oso Technologies and IntelliWheels and asking TEC for advice that ultimately drove them to where they are today.
The Drive and Passion
Servabo's grand vision includes an extended product line, which will reach as far as a more effective pepper spray.
"I would really like to see the name Servabo become synonymous with personal safety," Deppen stated. "At the very beginning, it intrigued me.  As an engineer and a researcher, I want to have some sort of impact. And now I have found an opportunity to do something significant."
What do you think? Would you use a personal safety device like the one described here from Servabo? Let us know in the comments!