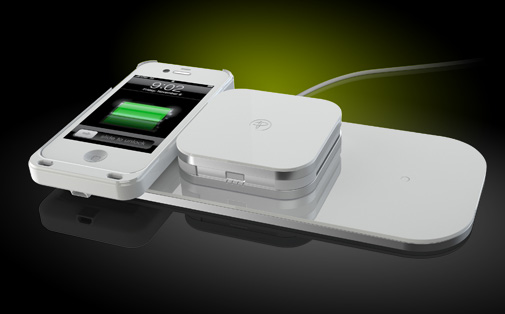 Duracell's Powermat technology was announced way back in 2009 as a new way to charge smartphones without cords. Users could simply place their Powermat-enabled device onto a charging surface to begin juicing up their phones, purely through contact. This year the technology is moving forward; Duracell Powermat unveiled a new ultra-thin wireless charging device for mobile phones at the Mobile World Congress in Barcelona. The Wireless Charging Card (or WiCC) is a wafer-thin chip that attaches to your smartphone's battery, allowing manufacturers to more easily implement the technology into future and certain existing models of smartphones.
Even though in its early stages the technology often required a clunky case to be attached to an iPhone, or an entirely new battery for Blackberry devices, Duracell Powermat has seen a great amount of success in its first years. Powermat's CEO, Ran Poliakine, said the company couldn't keep up with demand, selling over 750,000 units in the first eight weeks, and in 2010 the company sold out of nearly a million units right around the rush of the holiday season. Even though m Many airports are already beginning to adopt the new technology, including Chicago O'Hare, Pearson International in Toronto, and Eppley Airfrield in Omaha, creating stations where travelers can set their equipped devices down to charge. The company even brought on rapper Jay-Z as both a spokesman and investor in January of this year. Jay-Z called the tech a "revolution" when explaining his support for the company. "I'm partnering with Duracell Powermat because they're providing solutions for the future."
The chip showed at MWC attached directly to the battery on a Samsung Galaxy S II via a slim, six slot connector. The phone had software installed which provided information on the device's charging status, level of charge, and power usage statistics. The device also has the feature of doubling as an NFC antenna, which allows devices to communicate with one another wirelessly when in close proximity. While its success will remain entirely on manufacturers willingness to adopt the technology, at least in its new, smaller form wireless charging will be a more appealing addition to future mobile phones. For now the chip is only for smartphones, though Duracell Powermat hopes to bring it to other mobile devices in the future.
As cool and possibly revolutionary as the technology may be, at this point it still seems like more of a luxury than a necessity. Cords can be a hassle but still work just fine. Perhaps future iterations will develop wireless charging into more of a significantly revolutionary tech, reaching beyond being a kind of geek gadget novelty. With the new compact WiCC card, it certainly seems to be on its way. But until they can come up with truly wireless methods of charging (that don't continuously electrocute my body), I'll be sticking with my inexpensive tangled ball of cables.