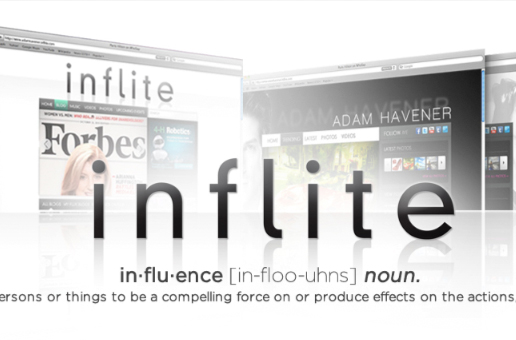 In a world demanding constant content, the stress  of professional self-representation online is becoming harder due to how consuming content curation and profile management can be. Whether an entrepreneur or top CEO, it is difficult managing an online appearance when business dominates your schedule. As most businesses upkeep websites, blogs, and social profiles, it is very taxing devoting enough attention to each to maintain looking socially active while trying to attract clientele.
This is where Tyler Francois and Kevin Tighe, the creators of inflite, formed the exclusive social platform for business professionals and entrepreneurial enthusiasts alike to come together and share their appreciation for the entrepreneurial lifestyle. Francois and Tighe agree that business is a lifestyle where social interaction and work tend to blend, thus they decided it would be effective to combine social profiles and business information into a single, locatable destination where one can manage all profiles simultaneously.
Since entrepreneurship is a craze in professional circles and corporate culture a main focus for consumers, inflite hopes to become the best outlet for entrepreneurs in compiling their content at once while they connect and engage with influential members and the public. Inflite allows people to view your information in one clear, concise stage without having to navigate through multiple accounts to get a general social (and professional) impression of you and your business. Essentially, inflite promises to become the digital social résumé of today where like-minded people can experience your successes, your trials, and overall development as an entrepreneur.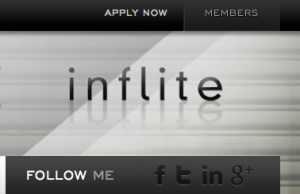 The founders believe that inflite is a tool to better represent your social and professional presence by pooling the most relevant information of your career into one accessible page. It also promises to connect you with influential individuals through a variety of helpful forums, webinars, and inflite-sponsored networking events. As the co-founders state, it acts as a hybrid "of Tumblr and LinkedIn" by being a "journal for your entrepreneurial journey" and an "outlet … to grow [yourself] and [your] company" through more meaningful and engaging experiences.
Inflite aims to "increase [your] exposure … and online traffic" by aggregating your social media content and what you or your business do into a personalized social résumé that reflects your professional and philanthropic persona, promoting a better general impression of what you represent.
Aesthetically, inflite is a well-designed site with its clean-looking interface that is reflective to the representation of the user. Currently, inflite is an application-based platform that ensures that only serious professionals looking to connect with similar people need apply.
Inflite will soon release an app for iOS and Android for better content management, as well as brand pages that inflite coworkers can contribute to, among many other coming features.
For further information about this emerging social platform or to apply, visit inflite.com, or follow its team on Twitter at @beINFLITE.
Photo credits: inflite.com