THE GIST
Leap's mobile app lets you create challenges with friends and keep track of your progress by snapping photos with your smartphone.
Think of Leap as Path (meant for real offline friends, not loosely connected social connections ) + Instagram (photo-sharing focus)+ Competitions.  The App is in closed Beta right now, but will be launching within the next few weeks.
POTENTIAL USECASES:
Diet/ fitness challenge
Long-distance beer drinking competition
Hipster-spotting contest
LEAP CHEATERS
 Each challenge has a 'magic number' which is the number of photos someone has to take to win the challenge. But if you see a friend Leap cheating, you can call fouls on the pictures that don't fit the rules.
BUSINESS MODEL
None, right now at least. Leap is focused on building its users-base but is exploring future strategies like brand challenges similar to Instagram's.
THE TEAM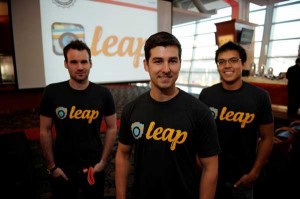 Hustler:  James Dickerson
Age: 26
Background: Ran the family business' sales division,  Startup Digest curator for Cincinnati.
Hacker: Ryan Tinker
Age: 25
Background:  Programming since he was 9 years old
Designer:  Nick Cramer,
Age: 25
Background:'Innovation consulting' for Fortune 500 companies
HOW THEY MET
Dickerson & Tinker met while working a health and wellness startup called Wellthy, which was accepted into  top-10-startup accelerator The Brandery.  By the end of their Brandery experience, Dickerson & Tinker realized Wellthy wasn't their best bet at success and changed directions, and started Leap. Dickerson's childhood friend Nick Cramer came on board on the Leap team was formed.
DICKERSON ON WHAT THEY LEARNED FROM WELLTHY
"We've learned that competition is the best way to motivate people to try new and interesting things in their lives. With our previous startup, we were focused on the corporate wellness market. We had health challenges that coworkers could compete in together to try to drive healthier behaviors in the workplace. We learned so much from the experience: 1. people wanted to compete against their friends and the people that they cared about; 2. they wanted to compete around their passions and interests; 3. it had to be mobile. Thus, Leap was born."
DICKERSON ON CINCINNATI STARTUP SCENE
"I'd say it's definitely up and coming. The Brandery has has put some national attention on the city and it's really a top level program with the mentors and resources that they provide. There's a lot of opportunities in this town for consumer marketing and enterprise plays considering there are 10 Fortune 500 companies located here like Kroger, Macy's and Proctor & Gamble. One of the challenges is finding solid technical talent, which is pretty much a tough all over these days."
FUNDING
The Leap crew is looking to raise funding which they say would help them nab another engineer, and pay their light bill, groceries etc for 12-18 months so they can focus on building out Leap's platform.
CONTACT