Did you wake up on the wrong side of the bed this morning?
Sometimes our mood has a direct impact on those around us, which is why some people use a personal journal to express their feelings in writing. MoodPanda adds a different twist to tracking the way you feel on a daily basis. Mood updates on MoodPanda are limited to be succinct, similar to a Tweet. The app organizes mood posts into a personal mood diary where the data can be viewed in many different ways: graphically, as a mood feed, broken down by metrics, and even a location based on a map.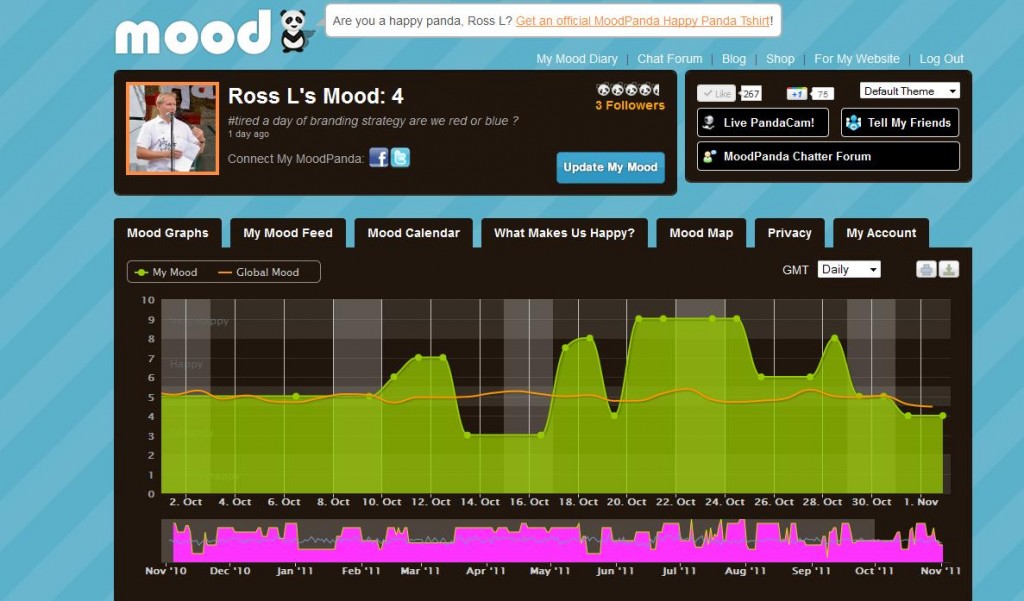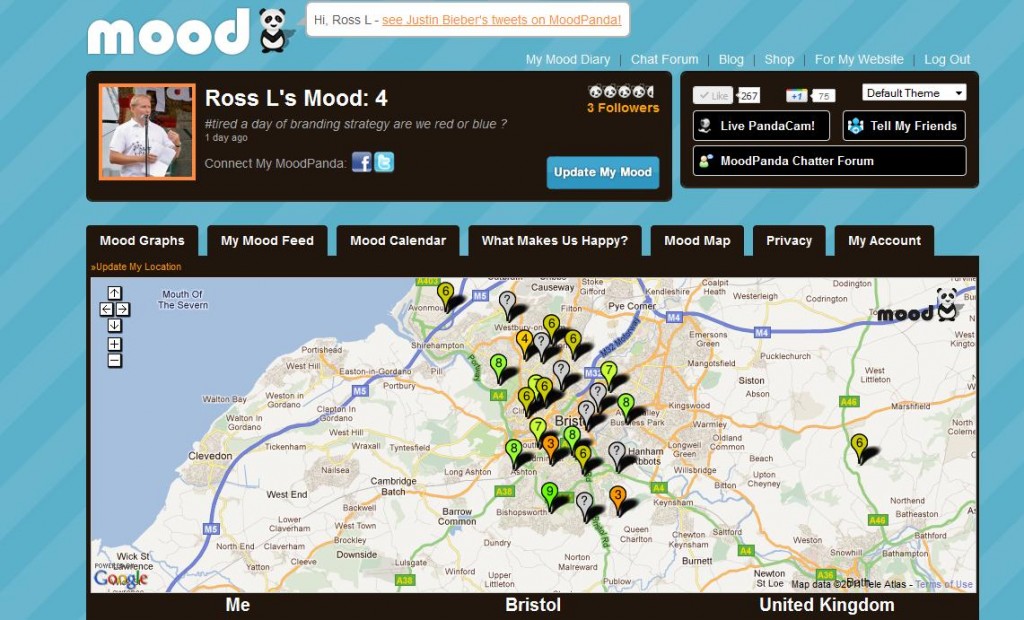 THE GIST: MoodPanda.com is an mood tracking website and iPhone app; it has a large community of friendly people, constantly updating their moods and sharing in each others' problems and celebrating each others' happiness. Its like an old school diary/journal but with lots of cool features and graphs to track how your days have been.
FOUNDERS: Ross Larter and Jake Greenwood
WHEN/WHERE: Launched in 2011 from Bristol, England
INVESTORS: Funded by user donations and founders.
RAISING/FUNDING: Would like funding to be able to develop new features and infrastructure to support the rising user base.
BACKSTORY: MoodPanda got started in a pub in Bristol, England. A friend was asking people round the table how their day was and somebody replied with a 10/10. My response was if today was the best day ever what happens if tomorrow is the same as today but then something else amazing happens (I think it included the "pussy cat dolls"), and we chatted for a while on this. The next day I started thinking about the question and told Jake (Co-Founder) about the idea and it went from there. We both work in software development so building the site was not an issue.
PHILOSOPHY: We are based around user led development, our community is very import to us and we try to actively involve them as much as possible.
INSPIRATION: Quote from Ross on why tracking happiness is important:
"Once individuals start to track their daily mood it sets a seed in their mind and they start to concisely think of things that will make them happier and avoiding thing's that won't. We think this is the key to making the nation happier, just the simple act of showing people what has made them, and others, happier in the past is a sure fire way to make them happier in the future."
CUSTOMERS: 
Statistically our users are 14-40 years old and 60% female, Our users are a mix of people who want to track their happiness to see how they can improve there overall well being, our other big group is people who want to talk about issues that talking to their friends and family is hard, it is easier to talk to internet users sometimes.
UPDATES:
We have a lot of ideas in the development pipeline at the moment, involving more Corporate features, Self Quantification features. Community features and API technologies, and we'll be posting more about them on our Facebook page as they're released!
INTERESTING TIDBITS:
1. MoodPanda is funded by its users.
2. MoodPanda has a total budget of £100 a month for everything: hosting, development, marketing, advertising etc.
3. MoodPanda has a large and growing user base its social aspect is the main difference, it's people helping others.
TEAM: