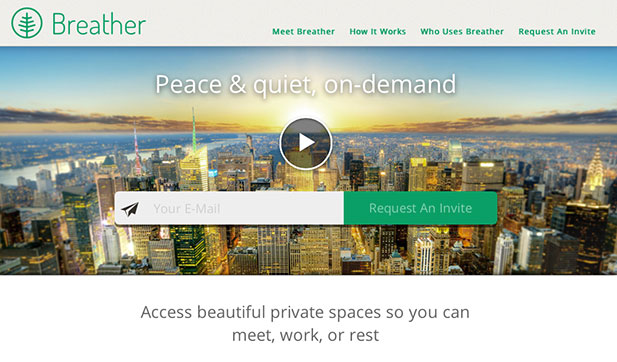 Do you ever just need to take a breath?  Find a quiet space, especially when you're traveling, to just relax, get some work done, or take a breather?  That's what Julien Smith, founder, CEO and best-selling author is looking to provide for you with his new startup launching today at Le Web London.
It's called Breather, and it's creating a whole new private layer on top of a city that only members can access.  Similar to zipcar, Breather is offering the same thing with space, by making available a network of rooms inside cities.
"You know I have to tell you I've been thinking about space and noise and quiet for a really long time," said Smith.  "I'm personally obsessed with being able to get away and have quiet time to get work done or just to be able to relax and have downtime.  Just always, always, always thought about that."
And in true startup fashion, the idea started on a napkin.  "And I was like, I think that this is something," said Smith.  "I went around talking to a bunch of smart people, and now it's a funded company that's really happening."
And happening it is.  Breather announced that they closed their seed round of $1.5 million dollars led by Real Ventures with Gary Vaynerchuk, Loic Le Meur, Mike Walsh and others also participating in the round today.
"The principle behind Breather is that we want to democratize cities.  So the way we go about doing that is we take excess real estate, and then we make partnerships with that real estate and turn them into rooms that you can open with a phone at anytime," said Smith.  "On-demand space is inevitable. It was just about how it was going to be done. As soon as I saw the technology emerging, I knew what the implications were. So I went for it."
Smith also mentioned that this is the first time in the history of mankind where 50% of the people in the world have lived in cities.  Right now, what's the best option for getting work done when you're away from your office?  Starbucks? Co-working spaces?  Neither of these spaces are private, and they're definitely not always ideal when you really need quiet.  That's where Breather comes in.
You can be walking down the street, take out your smart phone, and open a nearby space with just the touch of a few buttons.  You're charged an hourly rate for the time you use it, even if it's just an hour.  Of course, it's not like a hotel and members won't be allowed to use a Breather space overnight.  But, it's more than just a room.  They're highly curated and outfitted with everything you might need.
"You're never going to find a space without wi-fi for example or a place with not enough outlets," said Smith.  "We curate the entire process.  You'll always walk into a Breather space, and know that it's a Breather.  It fits the standard, and it will help you feel like, oh ok, I can trust these guys."
Beyond the amenities, you'll also find that Breather spaces are wonderfully designed and are more like a hip lounge than an office thanks to an award-winning designer.  "It's sort of contemporary, slightly minimalist, and a little bit hipster," said Smith when asked what members should expect of the design.  "It's like what you would imagine your cooler friend would have in his apartment.  It's like a little loft, studio space, that will allow you to sort of sit around, get some work done, or whatever."
Spaces are always verified beforehand, and users are rated after they leave each space.  Only the best users will be allowed to continue utilizing this service, too.  "There's never any weird surprises," said Smith.  "Because of the nature of how we work, we try to keep the best users.  And if someone is abusing a space or what have you, we just ban them.  So we're always keeping the nature of the network pure so that everyone can benefit."
The hourly rates will vary by city, depending on the cost of real estate in the area, but will always be reasonable.  But space is not all they're going to provide.  As the company continues to grow and members use Breather spaces, they're going to take personalization to another level, making you truly feel like you belong in the space.
"At the end of the day as we get to know our users better, we can actually do better than that.  We can adjust the temperature before they arrive, cause we know the previous times they've been there they've wanted the temperature at whatever degrees, and they like the lighting this way," said Smith.  "So we give them the lighting this way and a lot of other stuff like that.  The spaces are truly super wired, and we can pretty much make them exactly what the user wants at any given time."
Can you see the potential for this startup?  Mike Walsh of Structure Capital, a micro-vc that typically invests in the earliest rounds of a company certainly can.  "As a frequent traveler, Breather is something I'll use on every trip.  I'm always looking for private space for confidential calls and meetings," said Walsh.  "As an investor in Breather, I'm excited about the huge market to leverage dormant real estate assets and love how the Breather team will capitalize on this market. Having invested in the first round of Uber, it's deja vu for me."
As exciting as this launch is, it's also extremely ambitious, which works against it.  Smith has been working on the project for over a year, and he typically has garnered one of two responses.  "When they first encounter it, they usually say one thing. Ok so this is either incredibly good or stupid.  And I'm not sure which one it is.  And I'm like right, exactly," said Smith.  "Either way, it's super ambitious.  So the ambition of the project works against it because people like to think about short-term goals and stuff like that.  So the biggest challenge has been the fact that we're not trying to make a little app.  We're trying to do something that really changes the landscape of what a city is like.  And that sometimes seems overwhelming for people."
What do you think? Would you utilize a service like Breather?  They'll be launching in New York City first, followed by other large cities like San Francisco and London.  After that, the landscape is wide open.  Watch their video below, and let us know your thoughts in the comments.