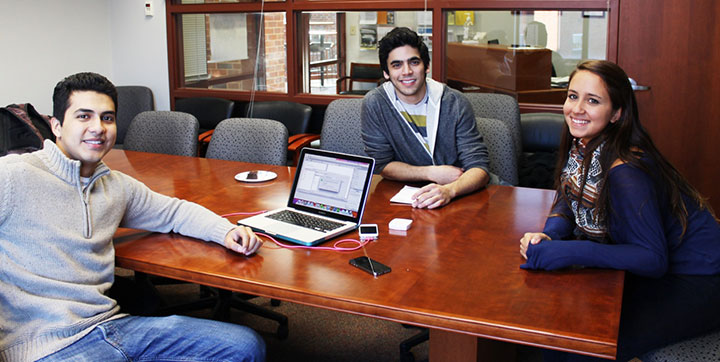 Kampus, a new social networking app, is leveraging what made social media giant Facebook successful before it became a global phenomenon.  It lets users interact exclusively with students enrolled in the same school.
The smartphone app was developed by Lindenwood University students Diego Kafie and Alcides Zelaya and is gaining some traction among college students in St. Charles. The duo wants to connect the whole campus by allowing students to interact in a convenient and efficient way. As of right now, the app is available for iOS in the App Store, but the team is currently working on getting the social media platform ready for Android as well.
The two international students saw a need for a 'closed-circuit network', because platforms like Facebook have become "too large, too unfocused, and too transited to focus on ONLY people from your school."
Kafie, a 21-year-old marketing student from Honduras, teamed up with fellow countryman and computer science major Alcides Zelaya when he had the idea for the app in April of 2013. Elisa Schwarz from Venezuela completes the troika as the team's graphic designer. Recently, Lindenwood freshman Katie Schaffer also joined the team as an intern.
The app has features like Kampus Talk, the app's version of a news feed, and the Market, a campus bazaar divided into products and services, requests and lost and found. Kampus Deals displays a listing of discounts and specials from local businesses, which is also one possible way the startup is planning to make money. "We are playing around with several revenue generation models", says Kafie.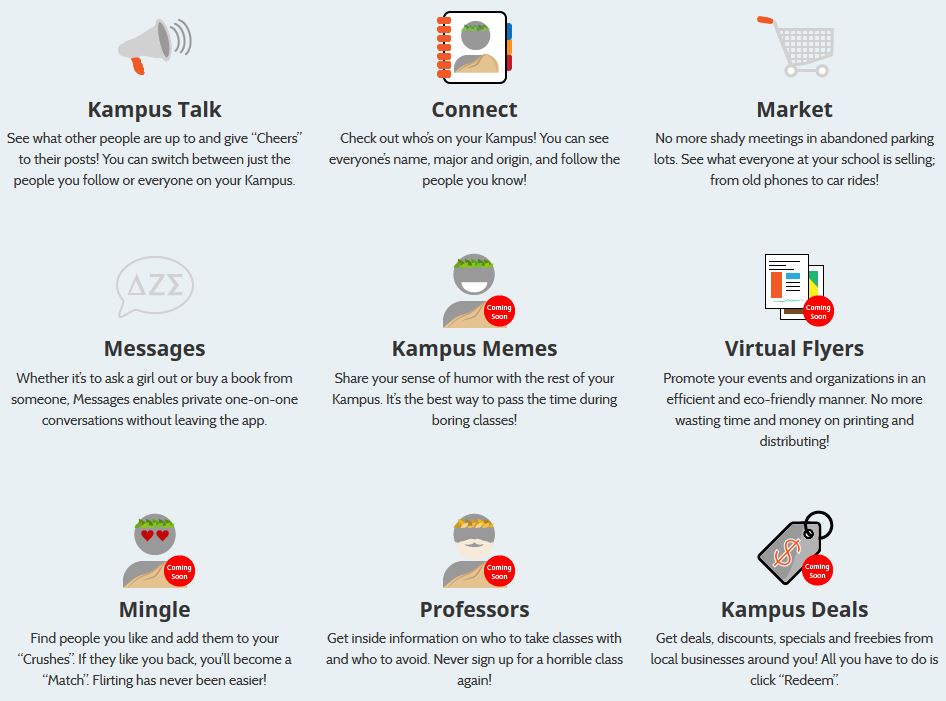 Students are able to buy and sell stuff inside their school's Kampus and filter products by category or price. "Even if 1,000 things are being offered, you can find it with a couple of clicks. On a Facebook buy and sell group, users have to scroll down for ages and hope to come across a product that suits their preferences", Kafie explains.
Since their market launch on February 10, close to 1,000 Lindenwood students downloaded the Kampus app. "Traffic is picking up a little bit, but we don't have all the functions up and running yet," says Kafie.
The concept of a niche social network isn't new. Similar to hyperlocal newspapers or blogs, there is a strong trend towards customized social platforms that serve a specific audience. In this spirit, Kampus lets users filter and search product offerings and has a tailor-made layout for each section. Moreover, users can save preferred products and other information with the "Favorites" bar.
In the fall of 2013, KAMPUS made it to the top 25 of the Capital Innovators Accelerator Program out of 130 applicants. Soon after that, they participated in the Shark Tank-like competition with none other than founder of FUBU and ABC reality show Shark Tank investor Daymond John. The student startup won $500 in cash and a one-year free membership at Lab 1500, an entrepreneurial center and co-working space in downtown St. Louis.
"That was my first outing in public speaking, and it was in front of 1,000 people," says Kafie. The founder also gave a presentation at 1millioncups, a worldwide program that lets aspiring entrepreneurs pitch their idea to mentors, advisors and other entrepreneurs.
Rick Duree, who co-judged Kampus at the Shark Tank event, says the app has "a lot of real-world application for college students who have direct, specific needs." However, having many big players in that space might be a 'challenge.'
The app is already available at a dozen universities in four countries. Kampus "Reps" are currently active at the Tecnológico de Monterrey in Mexico, the Savannah College of Art and Design, at Southern Methodist University in Dallas, and at UNITEC in Kafie's hometown Tegucigalpa.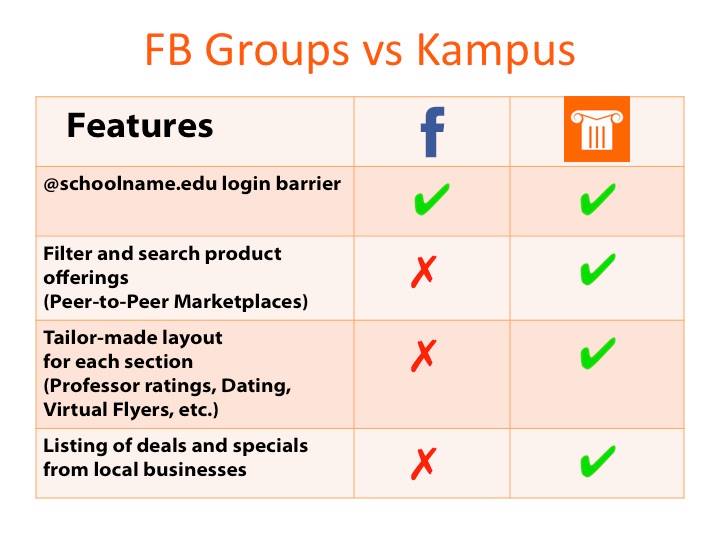 In the first month, the founders received valuable feedback from monitoring the early adopters' activity on Google Analytics and talking to them in person. "Users needed several clicks to get to some of the features, so now we show the most important ones on the first screen," says Kafie.
In spite of the startup's early success, the road from an idea to a successful venture doesn't come without setbacks. Kampus made it to the last round of Arch Grants, a global startup competition in St. Louis, but came up short. CEO Kafie is staying optimistic, though. "They probably had hundreds of amazing companies competing for 20 spots," said Kafie.  "Winning would have been great, but I believe losing is going to be a very strong motivation to prove them wrong. This is just the beginning!"
As Kafie and Zelaya are graduating this May, they are currently looking at several options for Kampus. "If we don't find anything here, we're looking for an opportunity elsewhere, but at the same time, we've lived in St. Louis for the past four years and we see this place as a home," says Kafie.
While Zelaya focuses on the technical aspects of the business, Kafie is the face of the startup and manages its operations. He says the experience of starting your own company is invaluable.
"There's only so much you can learn in a classroom," he said. "You don't appreciate things until you learn them yourself."  Then he added, "The motivation I have is much more than just being a normal employee because it's actually my company. That's the beauty of entrepreneurship."