In this day and age, a monumental social protest isn't complete without a few good hackers (am I right, Julian?). The most tech savvy Occupy Wall Street activists have stepped up to the plate to create tools for Occupy movements across the U.S.
Last week, hackathons took place simultaneously in New York, San Francisco, and Washington D.C. There are several projects in development, from the straight-forward question forum How to Occupy, to the visual and graphic-based Occupy Design. Occupy Design is perhaps the farthest along, despite just launching Monday in San Francisco.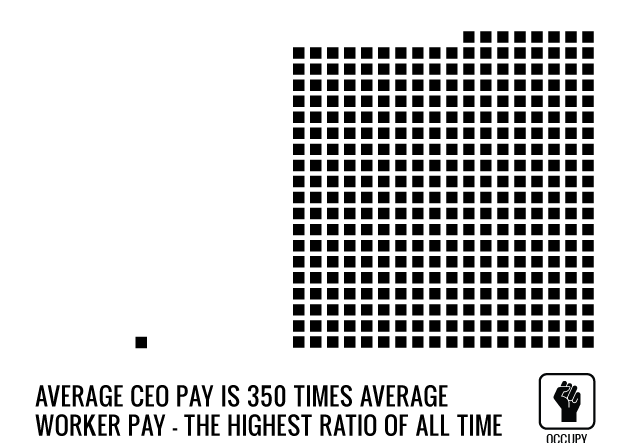 Occupy Design came together to create icons and infographics for activists. Their work includes simple protest and logistical signs and creating a universal language for Occupy events worldwide. Graphics feature everything from promoting justice to locating the restroom. The infographics are equally as simple, yet make an enormous impact. "We have placed an emphasis on infographics because it's a lot harder to argue with statistics than talking points," said Occupy Design frontman Jake Levitas. Like most Occupy hackers, Levitas' ultimate goal is simple, "We hope this helps focus the media discussion on a more grounded debate over the current failures in the system and how to address them, rather than simply attempting to broadly characterize or dismiss such a diverse collection of passionate people."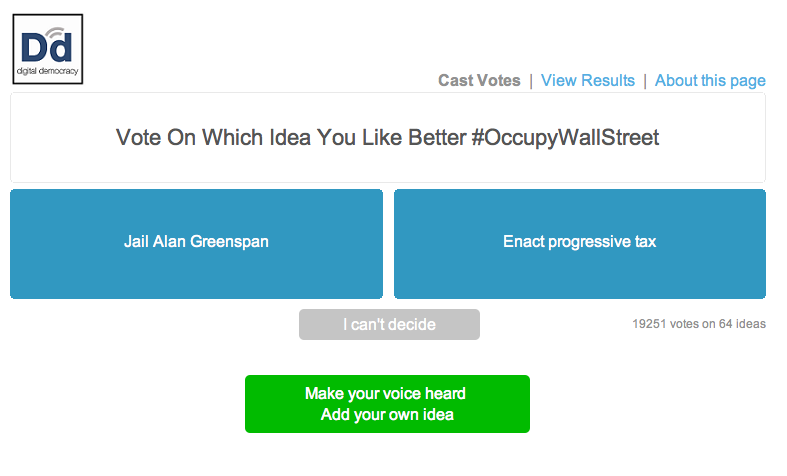 Also taking shape at the New York hackathon was OccupyVotes, a very democratic solution to making your OWS opinion count. Hosted by All Our Ideas, users can ask their own questions, creating crowd sourced questions and answers.
Another visually compelling project is Occupy the Hub, a website compiling live video feeds, social media conversations, and live chats for those participating in Occupy San Francisco. A service called RideHack partnered with Meetup to integrate its software to help people carpool to Occupy events. Shouty, an Android app in rudimentary stages, helps people listen in on events that they were unable to attend. It works by creating a live stream connecting cellphone mics and online radio feeds. More simple hacks are also in the works, such as a mobile site for the Occupy Together website.
Collaboration among developers has undoubtedly spurred the creation of many useful OWS tools, often taking existing applications and platforms and making them relevant and useful to the cause. Even though hacking is a difficult and complicated process, most projects spurred from a very simple need.