Alex Cruz had a problem that was nagging at him.  When he was running LivingTheCollegeLife, he kept getting contributors from top journalism schools to contribute articles to his site but…. they were wrong.
"I kept wondering why journalists who went to top schools didn't understand how to write in the digital age," said Cruz.  "I thought to myself that there had to be a way to train writers to write content that was more engaging, and that's when I had the idea for PenPath."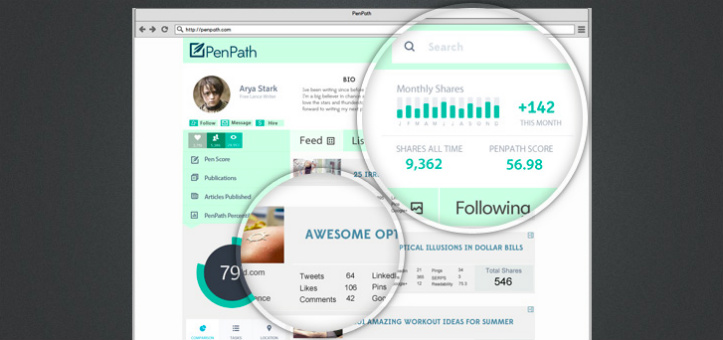 PenPath is analytics for writers.  In Cruz's words, "PenPath tracks a writer's performance and influence.  It harnesses the power of social media to see how engaged readers are."
Once Cruz knew what he wanted to do, he did what any good entrepreneur does and reached out for help.  He applied to Capital Innovators, the local tech accelerator, and the St. Louis Business Journal wrote an article about him applying to the Accelerator.
"I didn't make the final cut," said Cruz, "but I did catch the attention of a local Angel Investor, Shawn Schulze, who invested in a seed round for PenPath."
PenPath's algorithm is proprietary, but Cruz gave a little insight into how it works.  "Not all social shares are created equal," he said, "and we want to put social sharing in context.  A social share on Forbes vs. a social share on a smaller site isn't the same.  We can assume the popular site will get more shares just because its bigger."
PenPath takes the shares and article content and pulls data on it within seconds of being submitted to PenPath. After the data is analyzed, a writer is assigned a 'PenScore' which can be used to evaluate a writer by comparing them to other writers in that industry.
Cruz said the monetization strategy is going to start with a Freemium model.  "We'll offer a free product to writers to let them see how valuable PenPath is to them and then offer a suite of premium features."
Cruz has also applied for an Arch Grant this year.  "I've seen the value winning an Arch Grant has brought to other startups, and I think PenPath is exactly what Arch Grants is looking for- massive scalability with a new product that can change the way writers are considered for assignments and jobs"