Kyyba Xcelerator, Bodman PLC and TiE Detroit will be hosting Pitch Club on Wednesday, January 24 at Next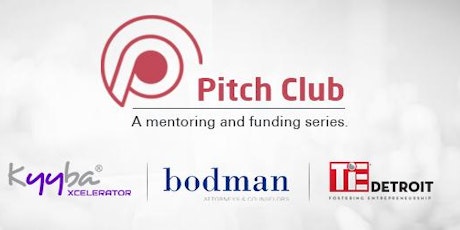 Energy, Detroit as their next main event.
Pitch Club is a program using mentoring and funding to encourage entrepreneurship while connecting the various ecosystems and communities throughout Michigan.
Pitch Club frequently runs monthly events giving entrepreneurs the opportunity to learn from experienced entrepreneurs and investors. The events are designed to educate, network, inspire and provide valuable experiences for being investable.
As part of the events, three lucky entrepreneurs benefit from the opportunity to practice pitching their ideas and discuss business plans with funding experts, allowing them to obtain a better understanding of what investors are looking for. Events are hosted on a monthly basis on Wednesday evenings in Michigan cities including Ann Arbor, Detroit, Lansing and Grand Rapids.
Companies that are chosen to participate in the monthly Pitch Club events present to the investment teams of Kyyba Innovations and TiE Detroit Angels. These startups are competing for investment opportunities ranging from $25,000 to $100,000 along with the chance to present to the TiE Global Angel Alliance (TGAA).
TGAA is a global platform for funding that introduces startups to a broader investment pool and opportunities to raise additional funds much larger than any single TiE Chapter or local Angel Group.
"Pitch Club provides a tremendous opportunity for cross-pollination and increased deal flow across Michigan, something that currently is not at the level it should be. This program will be very valuable for both the startup entrepreneurs and investors and will hopefully create a meaningful dialogue, as well as a technological and economic impact for the entire region," said Tel Ganesan, Managing Director, Kyyba Innovations.
"Access to investors and the opportunities to pitch without having to travel are signs of a healthy startup ecosystem," said Paul Krutko, president and CEO of Ann Arbor SPARK. "We are excited to have the Ann Arbor region included in Pitch Club; this new avenue for connecting startups and potential funders is a terrific addition to the existing ways entrepreneurs are able to attract capital as well as the investors already interested in what's happening here."
The January 24 event at Next Energy in Detroit will include three startup presentations, a pool of judges, and a special guest "Founder & CEO" keynote speaker. If you are interested in participating in this event then you can follow this link and apply on their website. The application deadline for startups is Sunday December 31, 2017.