While some entrepreneurs have made a career out of trolling people on the internet like 4chan founder Chris Poole, PositiveTALK founder Jim Tousignant wants to do the opposite. His goal is to measure and improve online positivity for people, companies and brands on social networks.
Based in Orland, Florida, his company PositiveTALK integrates with Facebook and Twitter to calculate a daily PositiveTALK Rating for your followers, friends, and brands you like based on proprietary sentiment analysis algorithms and natural language technology. The app analyzes tweets, comments, and status updates to create the rating. The higher the number, the more positive the communication.
PositiveTALK also uses gamification in the form of PositivePOINTS to entice the internet community into being nicer. The prizes are – you guesses it – positive affirmations and quotes that you can send out to your followers. According to the company's website, "users can "LIKE" positive posts and tweets from other registered users, and the social media app highlights top user posts within various PositiveTALK LeaderBoard Reports, as well as awards gifts, badges and prizes to the top, most positive posters".
Imagine the kid in your high school class who would raise their hand to answer every question, and do extra credit work just for fun. That kind of kid would rock the PositiveTALK LeaderBoard.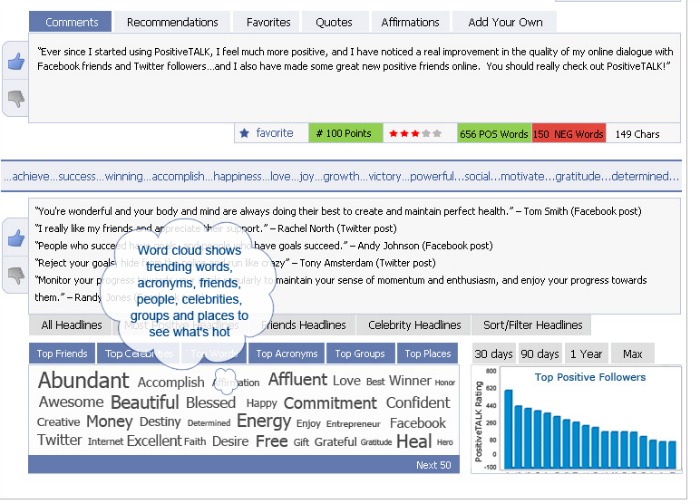 PositiveTALK has a few kinks to work out, including a user interface on the homepage that is a non-ironic throwback to the webpages of the 90's. The page has a scrolling marquee at the bottom – how's that for retro? The idea, however, is interesting. Here's Tousignant discussing his idea:
While communities like 4chan, Reddit, and niche message boards that are splattered across the web are known for their negative users cloaked in anonymity, there is a demand for positive inspiration on the web. Pinterest is one community that embraces the holy grail of internet positivity, the inspirational quote.
Tousignant is a veteran of the early days of the web who has spent the last twelve years working in the financial and vacation resort industries. In 1993, he founded Multex.com, a global provider of online research, investment information and technology solutions to the financial services industry. He led the company to an IPO before leaving the company in 2000. Tousignant's return to running a web-based startup is likely to be different this time around, thanks to the changes in the social web.
Still, positivity is big business. The self-help industry rakes in a whopping $10 billion per year. Even with its questionable design, PositiveTALK could easy start stockpiling cash by simply turning on ads for the self-help products.