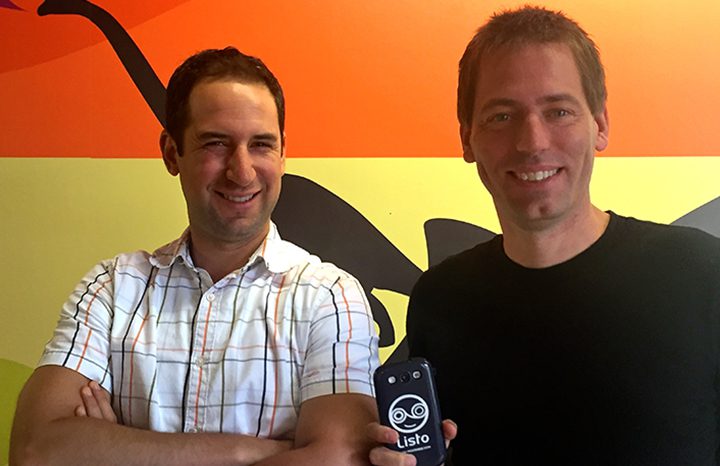 CEO of Listo Roberto Garcia with COO Nate Merrick
In 2010 while viewing Iron Man 2 in theaters, Roberto Garcia witnessed a father and son dismissed from the theater after causing a disturbance. The son was translating the movie for his Spanish speaking father. Seeing this, Garcia was inspired to create a product that would allow non-english speakers to have translated entertainment at their fingertips. Together with colleague Nate Merrick, the two left their corporate jobs and founded Listo.
Listo is a new application for smartphones that can play the audio from any movie in 25 different languages. Using acoustic fingerprinting, Listo identifies a movie, finds a translated soundtrack, and then synchs it up. "When a movie is released, studios spend millions of dollars to make on average twenty-five amazing high quality foreign language soundtracks," explained Merrick. "Listo is programmed to recognize those soundtracks and play them in synch with the movie's sound."
Garcia and Merrick partnered with Arch Grants cohort Candy Lab to develop the software for the app. They also met with several large hollywood studios in order to gain access to the many soundtracks needed for the app to function. This past June, Listo also received an Arch Grant of $50,000, which they used to continue expanding their business. Expectantly, Listo will work not only for movies, but also television shows and live performances. "Anything that has a pre-recorded soundtrack, Listo can translate."
"In the U.S. there are sixty-two-million people who speak a language that is not English at home," explained Garcia. "That is one in five residents. Worldwide there are hundreds of millions in the same situation. When we decided how we wanted to change the world, we decided that allowing that father and son to return to the theater, that would be our legacy."
Listo has not been put on the market yet, but the projected release date is sometime in 2015, where it will be available as a smartphone app.
Check out a short interview with Garcia and Merrick and demonstration of Listo.