Mike Philip, owner and CEO of Rovertown, believes the most effective and underutilized opportunity to market to college students is connecting them with local businesses through their mobile phones.
Rovertown is a mobile marketing company started in the summer of 2009 by three college students out of Philip's bedroom. Rovertown is a unique business discount card that is green, mobile, and instant. Students pull up the deal on their phone, show the business and receive the discount. Now available at 49 institutions in 29 states, Rovertown has over 1,800 merchants participating.
"When you look at the data, so many more college students have smartphones. Not only are they using these phones to call each other, they actually know how to take full advantage of what they can offer," Philip said. "It's the perfect marketing vertical."
What sets Rovertown apart from similar 'deal of the day' companies is that they offer their basic service to merchants at no cost. In addition, they have the ability to change their deals instantly. For instance, if a 2-for-1 t-shirt deal is not generating enough traffic to the store, the owner can simply update their deal to offer something more attractive or take down the deal altogether. For a premium, merchants can also have access to analytics and QR codes that can garner higher response rates.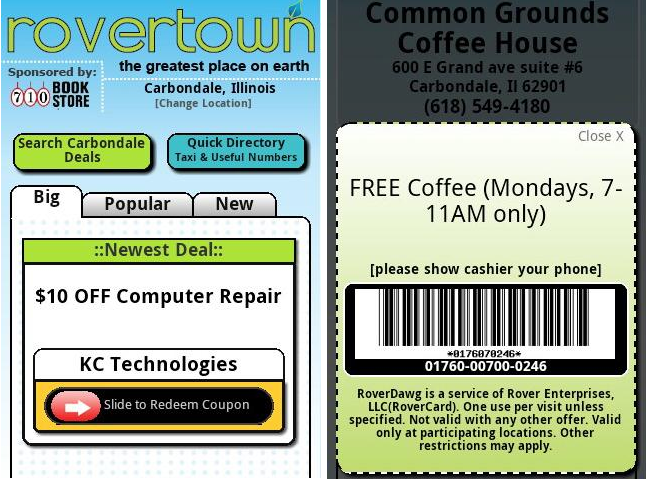 "Most local and small businesses aren't executing on mobile marketing. They either don't know much about computers or mobile marketing in general. What we do is give them a free, simple concept to try out," explains Philip. "This gives them a taste and shows them more effective ways to market to their audience."
Philip goes on to say that institutions are interested in hosting the discount program at their schools because of an added incentive. Roverlink, the company's secret sauce, is free software developed by Rovertown that acts as the middle man between institutions and local businesses. This also allows the committee in charge of the discount program to see the effectiveness of Rovertown through analytics.
"We're expanding by finding universities that already have discount programs in place. We let them use our software, which takes the businesses they already have a relationship with and puts them into a Salesforce-like database. This puts the management into their hands and lets the university use their resources to get the word out.
Philip does not believe his competition lies with Groupon or LivingSocial; Groupon has not gone after the college market, and he does not see them doing so in the future. His biggest competitor, he believes, is paper coupons.
"With Groupon, the Deal of the Day is getting old. People are tired of searching for the right fit. If I'm a 23-year-old male, and you keep sending me deals on manicures, I'm going to start disliking your service," explains Philip. "Rovertown creates a mutually beneficial service. We send you deals on the businesses you frequent, the places you consider your friends."
In February of this year, Rovertown was selected by the Chicagoland Entrepreneurial Center's CAP 20 program. CAP 20 is a component of the Cluster Acceleration Program that fosters growth in startups by connecting them with statewide resources including educational conferences, networking events, and advisory services over a five-year period. The goal is to help build job growth in Illinois. Rovertown was the only startup from Southern Illinois to be selected.
Rovertown has been paired up with Steve Sanger, VP of Business Development at GrubHub.com, Joe Abraham, Founder & CEO of  BOSI, Steve Thompson, Founder & Principal of Avalon HR Adisors, Dan Hess, Co-Founder & CEO of DealRadar.com, and part of the original executive team at comScore and Randy Johnson, GM of 710 College Book Store in Carbondale, IL.
Philip, 23, from Wheaton, IL, is majoring in Information System Technology, and has one semester left before graduating from Southern Illinois University in Carbondale. He is currently taking time off from his degree to pursue Rovertown full-time.
"As far as the future goes, we're focused on empowering universities to run mobile discount programs, getting students excited about relevant discounts and connecting merchants to their target audience," said Philip.
To learn more about Rovertown, visit their website  and follow them on Twitter @rover_mike.
Featured image credit: Dennis Hill