A Chicago-based startup is looking to change the world of academic publishing forever. Scholastica enables academic journals of any size to quickly connect with writers, find reviewers, manage copyediting, and publish online through its cloud-based platform.
Brian Cody, Cory Schires, and Rob Walsh founded Scholastica during their time in graduate school at the University of Chicago. The three students believed that academic journals could harness the Internet to run more efficiently and fairly.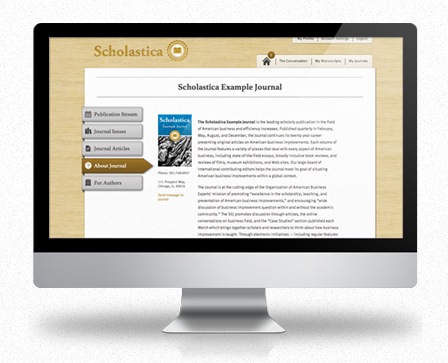 "We were swapping horror stories among a group of friends about the problems in academic publishing," wrote Walsh. "The absurdity that scholars do so much work that is uncompensated and doesn't always help their careers, that publishing companies make billions from selling scholars' knowledge back to universities, the ridiculously long wait times to get a decision on an article you've spent months writing, and the lack of infrastructure keeping scholars from starting their own journals."
The trio decided to pursue their idea to improve the academic publishing space, and spent three months interviewing journal editors and authors to lay the groundwork for the journal management service they eventually launched in October of last year. In order to complete the end-to-end service the team had originally set out to make, they launched a complimentary Open Access platform in June that allows journals to publish their work as they see fit.
One of the most important things from the beginning was to allow both small and large academic journals the opportunity to use Scholastica, said Walsh.
"We believe the tools to manage and spread knowledge should be available to every scholar and every field, no matter how big or small," he said. "Control over the production and dissemination of knowledge should be in the hands of scholars and not in the hands of large corporations."
Scholastica is designed to be highly scalable in order to accommodate a wide range of academic journals – a feature which the team hopes will level the currently-skewed playing field. "Our pricing scales so large journals will find the cost very competitive with other large-scale software, and smaller journals will finally have an affordable yet powerful option for managing their journals," the co-founder said.
Walsh said they've received largely positive feedback from journal editors that have come onboard. Some of the biggest academic journals already using Scholastica include UC Berkley's California Law Review, the University of Chicago Law Review, and the Duke Law Journal.
"We don't want to brag, but every editor we've spoke with who has used or checked out the competitors immediately says 'Oh, this seems really easy to use,'" wrote Walsh. "Our development team is really agile, and our customers have been astounded at how quickly we've taken their feedback and launched new features."