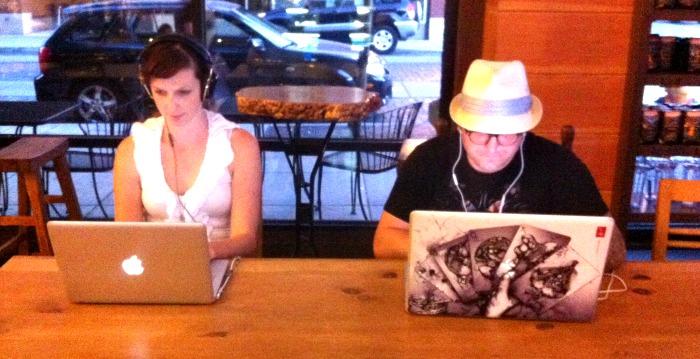 Building a business is a lot like composing a symphony or painting a masterpiece. If you are lucky, you are working on your magnum opus. Work like this doesn't stop on Friday evening at 5pm. It doesn't even stop on Saturday nights, when you drive through the entertainment district on your way home to work some more. Being an entrepreneur is lonely.
Entrepreneurs need to get out of the office sometimes to relax, share ideas, and let the creativity flow with like-minded people. That's why a startup ecosystem is so important. It's not so much that you need to know you are not alone in this crazy fight, it's that companies aren't built in a vacuum. Just like the New York School of abstract impressionism grew in the basements and bars of New York City's west village, the most innovative startups are built by a few folks hunched and circled around their laptops in the same space. To do this, you need to space, and you need free wifi at the very minimum.
I'm writing this post on a Saturday night at 11:00pm at a coffeeshop in the southeast neighborhood of Portland, Oregon. The Southeast Grind Coffee House is open 24 hours a day, it serves great lattes and organic food, and the wifi is free. Oh yeah, it's also packed with people working on something important. Behind me are medical students preparing for an exam, their books open to a page of gnarly images that I can't bear to look at. At the bar, there is a pre-teen and her mother, each immersed in a book that weighs more than the girl. There are 15 glowing laptops lined up against the window bar, one woman working on a musical composition. At a table behind me, there is a foursome from Reed College, where Steve Jobs took the infamous calligraphy class that would forever change the world's taste in digital design.
There is a big difference between begrudgingly working all night while your friends are out on the town and working in the same space as smart, motivated people who value making something. I'm so happy I discovered this place.
Much has been written about startup ecosystems and what makes them tick over the past few years. Managing partner at the Foundry Group Brad Feld is a key figure in the growth and development of the Boulder, Colorado startup scene, and his new book about how to nurture an entrepreneurial ecosystem in coming out next month. Access to mentors and capital both help, as does being in a university town.
Yet one simple, non-institutional way to ignite a local startup scene has less to do with financial support. Instead of showering government grant money on small startups in the form of seed funding, perhaps the key to encouraging the creativity that forms these early ideas in the first place is to build a 24 hour coffeeshop with free wifi.
When I lived in New York City, places with free wifi were few and far between. Even some of the Brooklyn neighborhoods like DUMBO and Williamsburg were anti-laptop in their coffeeshops, despite the best efforts of local startup cheerleaders like Charlie O'Donnell who are trying to make Brooklyn the next big tech hub to stand apart from Manhattan. Brooklyn is home to some of the most interesting and innovative web designers working in the US, but they don't work in public. There is nowhere for them to go.
When smart people work in public, everyone benefits. Serendipity is credited as one of the biggest reasons that the Bay Area continues to churn out so many ambitious and successful companies. Running into investors, potential employees, and the top designers and technologists in the industry happens so frequently, that Silicon Valley godfather Steve Black has put together a Hacker's Guide to Silicon Valley. Some of the places listed on his map include: Red Rock Coffee and Caffe Centro. Yes, both have free wifi.
On Pearl Street in Boulder, Colorado, small teashop called Atlas Purveyors with a growing loyal following is the office away from home for many entrepreneurs. Boulder Open Coffee Club, a monthly event that draws out some of the most talented thinkers in tech before 9am is held here. The wifi is lightning fast, and the shop stays open late every night of the week.
This year, I have written extensively about emerging startup scenes like Detroit, St. Louis, and Tampa Bay. The one thread that runs through all of them is the public/private institutional partnership that the local business communities boast about. Sometimes I can't help but wonder though, if the first step to creating a thriving startup ecosystem comes before the money. It starts with the people.
If your community doesn't have a late night spot with free wifi, why not get out there and suggest it to some of your local coffeeshops? If you can find a way to promise them that it will be worth it by hosting events and hackathons, they may be more receptive to the idea than you think.
Do you have a 24 hour coffeeshop in your community with free wifi? Add it to the list in our comments.