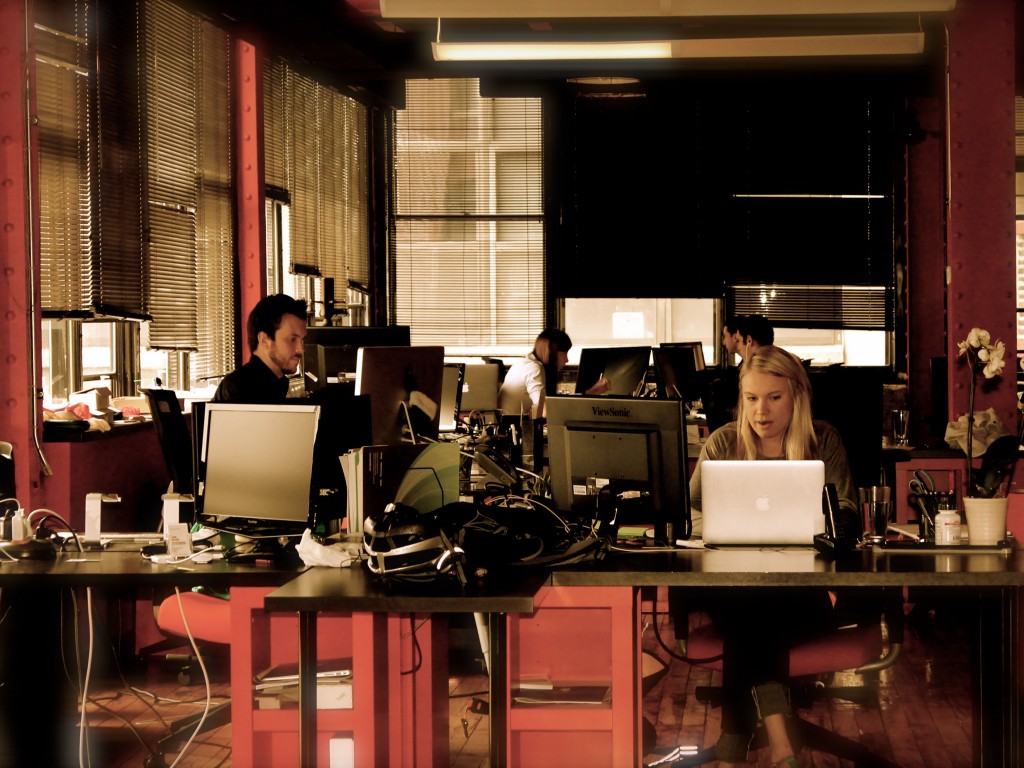 "The cruel truth is that I'm not even a designer today," said John Roa, founder of AKTA design studio. But if he was never a designer, then what made AKTA one of Chicago's most sought-after design studios, and Roa one of Chicago's most influential entrepreneurs?
Roa's journey was riddled with successes, failures and a carefully calibrated approach to business. What he learned along the way translated into his many other ventures, including SocialCrunch, a company now part of TechStars Chicago, and DigitalHope, a kickstarter-type platform that raises money for underfunded international charities.
AKTA is now in its third year and is growing significantly. "AKTA in its infancy wasn't at all what it is today, it was never designed to be," Roa said.
"We have crossed the hurdles of defining what we are, bringing in an absolute rock star team to do this work, to deliver quality frankly better than anyone else in Chicago."
The right team
Roa said having the right team took time as well as trial and error.
"It was a huge barrier and huge battle to get that right," he said. The company contracted workers at the beginning, only to realize a greater need for full-time employees. "They had to be part of the culture, part of the team, part of the family. They really had to believe in what we were doing."
He said this was the "inherent hurdle of understanding the future."
"We're in constant flux of understanding our resources: how to hire, when to hire, and how many people do you need," he said.
AKTA went from having one full-time employee in the first year, to four employees by the end of year two. Now, in year three, Roa said the company is rapidly hiring to sustain the large volume of work coming in.
But again, the story is not about how many are on the AKTA team, but who is on the team. Recently, Silicon Valley veteran Dean DeBiase joined AKTA as executive chairman to help the company create the "next generation of innovative digital products and services that will transform entire industries," DeBiase said in a prepared release.
"To have someone of Dean's caliber join us is great validation for the digital product design work we are doing," Roa said. "And it means even faster growth. Dean has an incredible track record with emerging growth companies like AKTA."
The way that Roa built his team from the beginning helped the company grow to be so successful in such a short amount of time.
"You should hire your accounting, project team and sales team before you hire the executors of your service," he said. Roa hired his designers after he finalized the initial accounting, project and sales teams, emphasizing the importance of a fluid business model.
"The execution is actually quite easy – but getting a project done right, on time, having a good budget, having good relationships, is exponentially more important."
The right clients
Getting the first client for AKTA was also one of Roa's biggest hurdles.
"Most clients have been burned in the past," he said. "It's very rare that someone comes in here to talk to us that hasn't been burned in the past."
Selling the first product is always hard without a portfolio to prove the quality of your work, Roa said. As he moved forward, he said what made him successful was "an extreme focus on quality and client satisfaction" that gave his clients something to talk about – as most of his clients afterward came through word-of-mouth recommendations.
But still, the first client was hardest to gain. "To gain business, people say kind of anything," Roa said, noting that most companies tend to over promise – something that he has avoided from day one. He said he preferred to lose a deal than set misguided expectations of what his company could offer at any given time.
"We've been obsessed with honesty, transparency, client satisfaction," he said. "We've just been a very open business, which has helped us."
Since his first client – Top Golf – Roa has diversified and widened his client base to include projects for Northwestern and the Rehab Institute of Chicago (RIC), where the studio helped design a program to help amputees train themselves to use prosthetic limbs.
"We design a lot of products for tech startups that if it exists or it doesn't the world is going to be the same," Roa said. But there are stand-out projects, like the one he's made for RIC, that helped the studio directly impact lives and test the capacity of design.
The future of design
"I truly believe, like most things, even when you talk about innovation in general, a great design is a much deeper philosophy and a deeper study around people," he said.
"So what really inspires me is kind of the back story, the research, the discovery, getting deep with the stakeholders, the constituents, the users and knowing why we're designing something."
This philosophy of design goes back to how Roa molded the AKTA team. He said he has more researchers on his team than he does designers. "We're here to figure out the why, and if you can do that, then you get really amazing products," he said.
The way AKTA works is through a three-part assembly line of analysts and strategists, architects, and designers – what Roa calls a "systematic approach to design."
After the analysts and strategists spend time understanding markets and ways to innovate within industries, the architects take these analyses and figure out processes and ways that users can travel through a product and get the data they need. Finally, designers create the product that you see on a screen by taking all the research and catering it to aesthetics.
"We don't believe in the jack-of-all-trades," he said. "We want deep, deep, deep, true thought leading experts in their craft who can come together and all offer unique insight."
By forming a synchronized assembly line of work under the AKTA culture, the team builds products with a deeper understanding of consumers, encompassing Roa's philosophy that what you see in design must directly relate to a consumer's psychology.
The potential of failure
Perhaps one of the most unique things about Roa and his approach to success is his comfort with failure. He said his ventures have never started with the goal of success.
"It's about interesting challenges, big challenges," he said. "I want to solve big problems. I want to change how people think about things. I want to do things that have never been done before – and that's where most failures come from."
Roa's journey in understanding consumer psychology has come through a brave process of trial and error, as he has had at least "15 failures baked in between all the successes," he said.
But he added that failing with optimism is important. "I wanted to bake those failures in to kind of humanize the whole process."
"I actually think success is very dangerous unless you're also failing at other things along the way because when you succeed, you kind of build into your brain that what you did worked," he said, adding that when you go to do the same thing again in a new circumstance, in a different time, you may get it wrong.
Which is why Roa's systematic approach to design works so well: A constant dedication to analysis, with the understanding that people are "wildly curious," and that exploration and risk taking are keys to innovation.
"You have to embrace it and be a bit crazy to be an entrepreneur," he said.
This trial and error process not only brought Roa a stronger relationship with employees, clients and consumers, but also a discovery in balancing priorities and running a successful design business without being a designer himself.
"At AKTA, we have made our name as Chicago's leading digital product design studio by serving some of the city's most exciting startups," he said.
Now, the future of the company may yield bigger companies and global influence, but it continues its deep attention to the psychology of design.