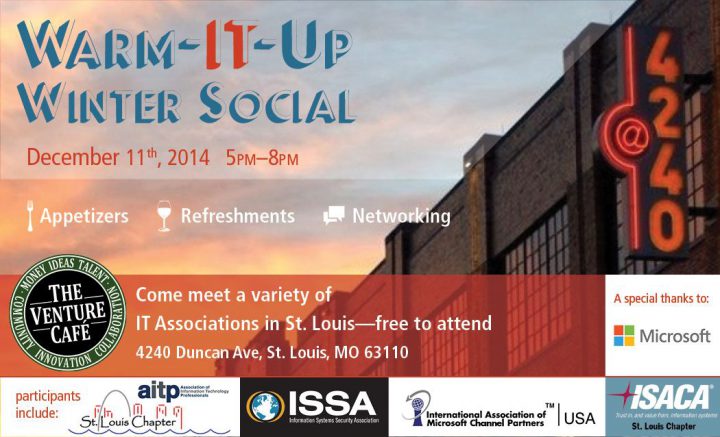 On December 11, Thursday, information technology associations will hold Warm-IT-Up, a free winter social at the Venture Café Gathering to celebrate the greater St. Louis tech community. It is estimated the party will attract 300 IT professionals, providing appetizers, refreshments, and door prizes.
Tara Kinney, organizer of the event and Membership Chair of the St. Louis Chapter of the Association of Information Technology Professionals, said, "Warm-IT-Up is a social gathering of IT professionals to celebrate and enhance our field's growth as a significant economic driver for the greater metropolitan area. The Bureau of Labor Statistics numbers from 2013 show that St. Louis leads the nation in tech job growth for computer systems design and the city is increasingly recognized as one of the nation's newtech hubs.
"Microsoft is pleased to participate in the Warm-It-Up Winter Social as an opportunity to bring together so many organizations that work to benefit the regional IT community from startups to enterprise and from college students to CIOs/CTOs," said William Fink, Microsoft Evangelist. "We look forward to participating in these moments that spark collaboration to ignite IT innovations of the future."
Travis Sheridan, Executive Director for the Venture Café – St. Louis, stated, "The Venture Cafe – St. Louis is pleased to host the Warm-IT-Up social to bring together several professional tech associations. A lot of serendipitous collisions occur when you get the right people in the right place and allow the right things to happen."
ITEN Executive Director Jim Brasunas commented, "ITEN is looking forward to joining with the other great IT organizations in town to celebrate the holidays as well as all of the great progress in the emerging regional tech ecosystem."
The event is being held in conjunction with ITEN's Second Thursday gathering, featuring keynote speaker Curtis Davis, co-founder and COO of MulticoreWare, an accelerated software development company.
Additional hosts of the event include Venture Café, Information Systems Security Association, ISACA, the International Association of Microsoft Channel Partners, the Inventors Club, and the St. Louis Chapter of the Association of Information Technology Professionals.