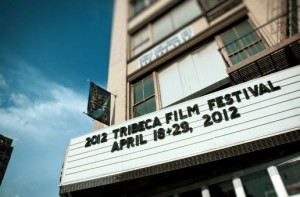 Technology will take center stage this week as the 2012 Tribeca Film Festivals opens in New York City. In addition to a variety of films and talks that fuse technology with modern filmmaking, the festival is partnering with Apple to feature several workshops focused on the future of film.
For the first time in the history of the festival, attendees can purchase tickets on Facebook and reserve seats for friends through the Tribeca Film Festival Facebook app – through which you can search by film or date.
Several films at the festival feature technology as in integral part of the storyline. Lolcats have got nothing on the documentary CatCam, which chronicles a pet owner who attaches a small point of view camera to a cat who keeps running away. High Tech, Low Life is a documentary that walks the line between a political and technological manifesto as it follows the stories of internet anti-censorship rebels in China. Newtown Creek Digester Eggs: The Art of Human Waste is a short film about the green-tech innovations that help treat the wastewater from the New York metro area.
Additionally, on April 27th, the third annual Disruptive Innovation Awards will take place at the NYU Stern School Of Business. Lifetime Achievement Awards will be given to Jack Dorsey, founder of Twitter and Square, and John Wood, founder of Room to Read. Awards will also be given to blogger Jason Kottke, 12-year-old app creator Thomas Suarez, and MakerBot Industries co-founder and CEO Bre Pettis, among others.
Festival partner Apple will host a variety of talks and workshops at its Soho and Chelsea retail locations. The free technology for filmmakers workshops include Color Correcting With Final Cut Pro X, Coordinating Your Movie On A Mac, and GarageBand Movie Scoring. The Apple stores will also host Meet The Filmmakers talks with the team behind Mansome – featuring Morgan Spurlock, Will Arnett, and Ben Silverman – and the team behind Your Sister's Sister – including Lynn Shelton, Emily Blunt, and Rosemarie DeWitt – and others.
Beyond just showcasing talks at Apple, the festival is also hosting talks for innovative film makers by people in the digital media industry. Based on the Tribeca Film Festival's popular Future of Film blog, festival organizers have scheduled a series of lunchtime sessions with speakers like Tumblr founder David Karp and College Humor and Vimeo founder Ricky Van Veen.
Film lovers who can't be in New York City for the festival can still participate online. For the third year in a row, the festival will offer viewers the chance to watch selected films free of charge, including four world-premiere features that will be streamed just after their theatrical premieres.
Organizers of the Tribeca Film Festival have worked hard to integrate emerging technology with the tradition of filmmaking, and it shows.