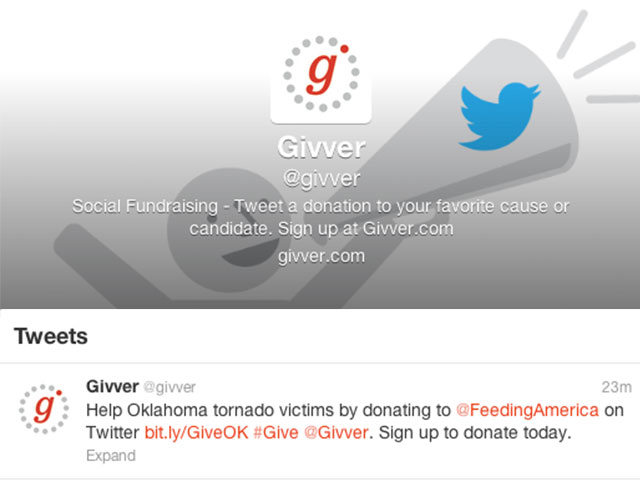 Today, the world grieves with those impacted by the devastating tornadoes in Oklahoma. The damage is immense, and the loss of life is severe. As the country begins to reach out to help those touched by this disaster, whether through early response teams, food donations, or monetary support, there are a number of ways you can help our neighbors in Oklahoma including making a donation by tweeting.
Like many others, you likely followed the disaster as it unfolded via Twitter, and now that same social network can be used to make a difference in the lives of those affected by this deadly storm.
As a reader of Techli, you're likely aware of Givver, as we've covered this charity fundraising tool previously, and it's one of its charities that will be lending support to the community of Moore, Oklahoma.  Feeding America will be sending truckloads of food and is accepting donations through this great new tool via Twitter right now.
As they posted on their Facebook page, "Our hearts are with Oklahoma & we are assessing needs there. Like previous disasters, Feeding America network will be there to help those affected by this storm & those who continually struggle with hunger."
Givver is one more way you can help support Feeding America's disaster relief efforts, which first began in 1989 following Hurricane Hugo.  In the past five years alone, Feeding America's network and national corporate donors provided 100 million plus pounds of emergency food and disaster relief supplies to those affected by disaster.
To help, you can sign up to use Givver at Givver.com. For those of us who are already using Givver, simply tweet "#Give $(an amount) @FeedingAmerica," and our donation will be put to immediate use to help the families in Oklahoma have food to eat in the midst of this disaster.
It's time we all made social media matter, and by supporting Feeding America at this time we can all make a difference in the lives of those who need it most. To learn more, or sign up, go to Givver.com or Givver.com/feeding-america.