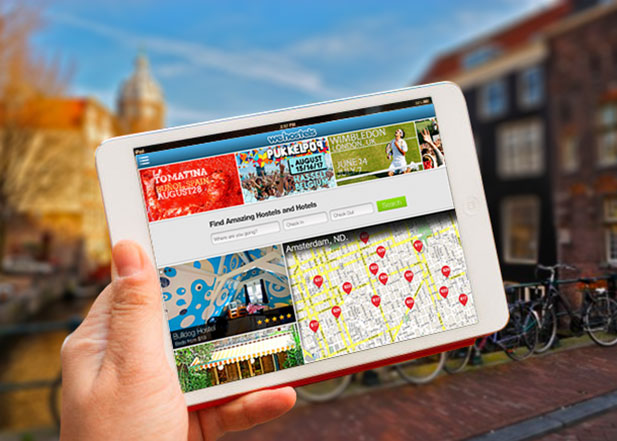 Is there anyone who doesn't love to travel?  While I'm sure there are a few out there, it can't be many.  The impact that the U.S. travel industry has is quite phenomenal.  In 2012, direct spending on leisure travel by domestic and international travelers totaled $597 billion, and travel overall generated $2 trillion in economic output.
In an industry this large, it's hard to imagine a company could inject a new idea within the industry and be successful.  Thinking back to the transformation in the early 2000s, from 'brick and mortar' to 'click and order,' it wasn't something the travel industry gladly welcomed, and there haven't been many breakthroughs since then.  That is until now.  One startup, Wehostels, is looking to make a big impact in a niche travel market you might not expect.  And, they're making a big splash thanks to their emphasis on being mobile-friendly.
Travel has been slow to get to the web, and even slower when it comes to having mobile applications that are friendly for travelers.  Wehostels has done the opposite of the industry.  In fact, you can only book accommodations with Wehostels through a mobile device.  That's because they're targeting a very specific segment of the travel industry in young travelers.
"We consider ourselves young travelers, so [we are] solving our own problems," said Diego Saez-Gil, Founder of Wehostels.  "We see this segment is underserved.  There are some companies that were born during brick and mortar stores.  They're very slow to get to the web.  They don't have mobile apps. They have very bad websites.  Young people are tech savvy.  This is the opportunity to make something for this specific segment."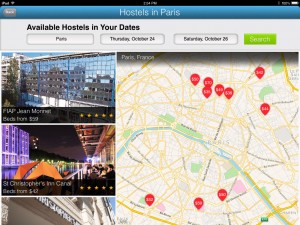 The young, budget-conscious traveler can easily find and book value accommodations around the world with everything being under $100 per night through a Wehostels app.  And there are plenty of choices, too, with over 50,000 places in 800 cities.  By truly understanding its customer, Wehostels has tailored an experience that is nothing short of spectacular.  Not only do they have an iPhone and Android app, they recently launched an iPad app at the beginning of this month, too.
Their emphasis on native apps came in July 2012, when they essentially relaunched the company after several months of work in a completely different direction.  "So we lost 8 months of development, but since our new beginning it's been going very well.  We've been growing our booking section 76% monthly on average since December of last year," said Saez-Gil.   "We're completing the portfolio of apps and for now it's going to be how can we keep improving the product and adding features the users are asking for and maybe adding other services in the future.  We're always trying to go faster, and always want to get more for our customers."
And their apps have been quite popular, too.  Their android app, for example, obtained 15,000 new users in the first week alone.  And each app is specific for the device.  Saez-Gil explained a few of the differences between the iPhone and recently launched iPad application, stating, "The format [is different], but also the phone you use mostly on the street, in the terminal, on the go.  What we've learned is that the attention span is very short.  You have to allow the user to fulfill their task very fast in a few steps.  The iPad on the other hand is used on a couch, sitting at home, in the hotel or at school.  So the user engages more, has time to get inspiration, to research, to browse a bit more through the app.  We put more content that users can get inspiration from, and we move what we show on the first page.  The other thing, we show more information about a place, because they have more time to research.  On the iPhone, we show less results."
Of course, booking accommodations is just one aspect of Wehostels.  Through their application you can also find areas of interest around where you're staying and even connect with other travelers staying at the same location. The iPad app also features popular events around the world, including music festivals, sports events and beach escapes.  It's a last-minute planner's dream app, allowing users to find an affordable place to stay for events that are often difficult to attend and in high demand.
So what's next for the young travel company?  Their vision is to become the world's largest mobile travel agency for the youth segment and expand their reach and products, becoming the remote control of your trip.  While they're predominately focused on the U.S. market, they are looking internationally.  "We've started translating to other languages," said Saez-Gil.  "[We're looking to] leverage local partners in Europe, South America, maybe Asia at some point, and keep expanding the community and services we can offer that community."
What do you think? Would you be willing to book your next trip through an application-based company like Wehostels?  Download their apps in the app store or get it on Google play, and let me know your thoughts in the comments.