Last week, the FBI  shut down the mega-popular file-sharing web site MegaUpload, arresting their executives and accusing the site of being an "international organized criminal enterprise" which illegally cheated copyright holders out of $500m in revenue. In the indictment, the justice department claims that before its closing, MegaUpload was reporting 50 million daily visitors. Just to give you a little perspective, thats roughly  4% of  TOTAL internet traffic. Needless to say, millions of people are going to be looking for alternatives to their favorite file-sharing site.
Originally this post was titled 10 Alternatives to MegaUpload, but two of my alternatives Uploaded.to  and Filesonic announced today they are slimming their services, aka stripping the sharing from 'file-sharing.' From the outside, the decisions undoubtedly seem like efforts to avoid allegations of copyright infringement, but neither company has stated whether the MegaUpload takedown was the catalyst for the radical service changes.
Filesonic, a file-(former)sharing and storage service that offered 10 GB of free storage for 30 days, has noticeably removed their former tagline of  "Upload. Store. Download. Share. We don't believe in limits" from their homepage. In its place appeared a red banner alerting users of the disabled sharing service:
"All sharing functionality on FileSonic is now disabled. Our service can only be used to upload and retrieve files that you have uploaded personally."
With the announcement of  the service changes, finding a good alertnative file-sharing service become that much more important. Here are 9 sites that we're crossing our fingers still exist tomorrow.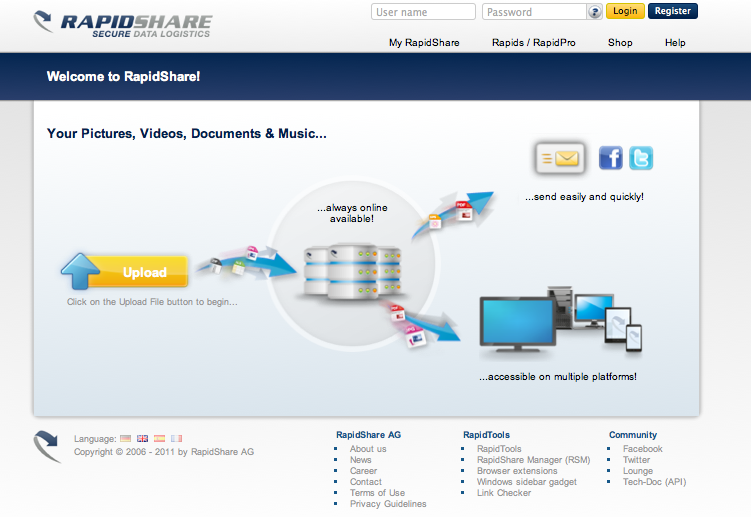 Ok so there is no shocker here – Rapidshare tops almost everyone's file-sharing list. If you have MegaUpload blues, take comfort; Rapidshare is incredibly  similar to our  banned  buddy.  Rapidshare offers users unlimited disk space with unlimited size of uploads! The only downside of a free account is that files are deleted over a period of time, but if you upgrade to Pro get deleted after a certain period of time. If you want to use this as a cloud storage service, you can upgrade your account to
FREE:  Unlimited disk space with unlimited size of uploads, but files are deleted after a period of time
PRO: $40 for 150 days or $130 for two years.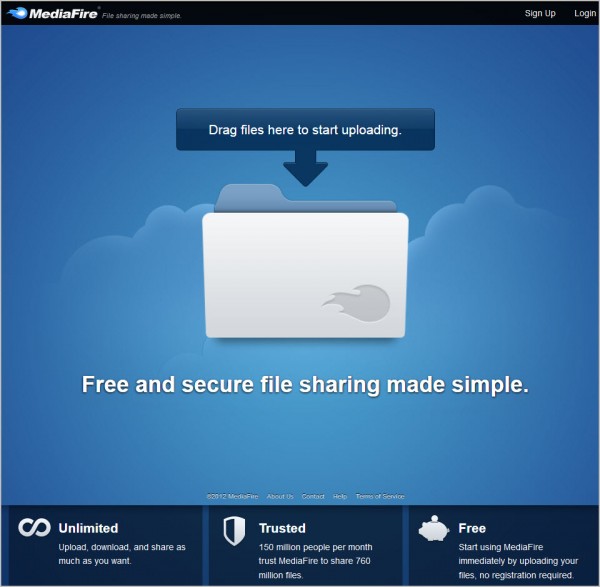 Similar to Rapidshare, Mediafire  offers free users unlimited storage files, with files being deleted after a specified time period. However unlike Rapidshare, free MediaFire  users are limited to 2GB upload file size ( upgrading to a Pro account increases their one-time max upload size to 4GB).
FREE USERS: Unlimited storage with a max upload size of 2GB, but files are deleted after a certain time
PRO: $9/ month for max upload size of up to 4 GB, or $50/month for up to 10GB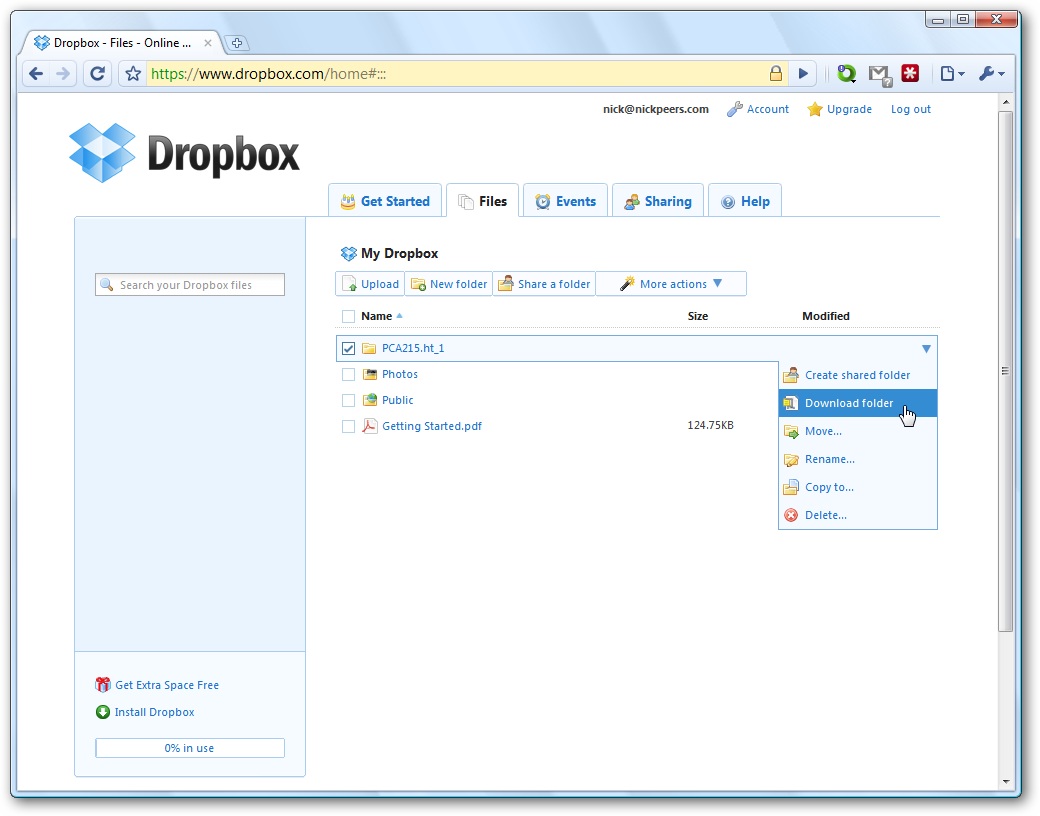 Dropbox

Boasting 45 million users, Dropbox is a clear front runner. The popular cloud storage service offers users a 2 GB of free storage. Users can share files by creating a public folder, with direct links, or by inviting a user through email to join a folder. The files can be shared with anyone using your public folder or other Dropbox users via email invitations.
FREE: 2 GB of storage
PRO: $10/month for 50 GB, or $20/month for 100GB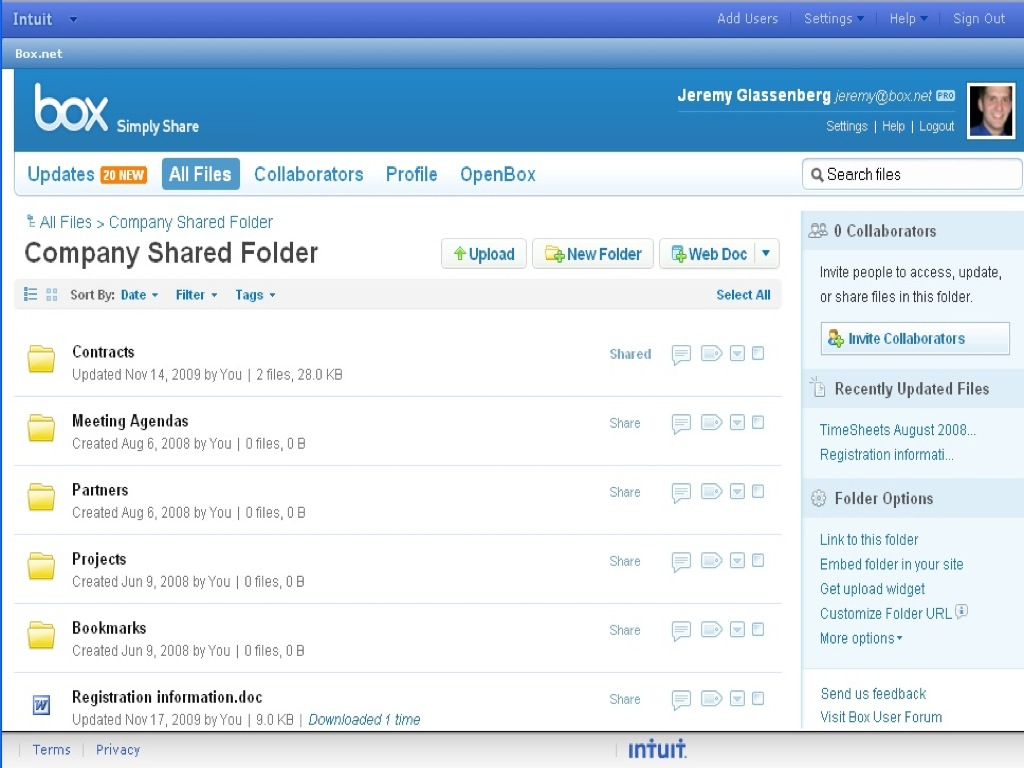 Box is a cloud storage service  that offers free users a 25 MB storage limit. Storage can be increased with a Pro account but the max available storage is 5 GB. Similar to its cloud-storage rival DropBox, files are shared using a direct links or a user can be invited to a folder through email.
FREE: 25 MB storage limit
PRO: $10/ month for  25 GB, $ 20/ month for 50 GB.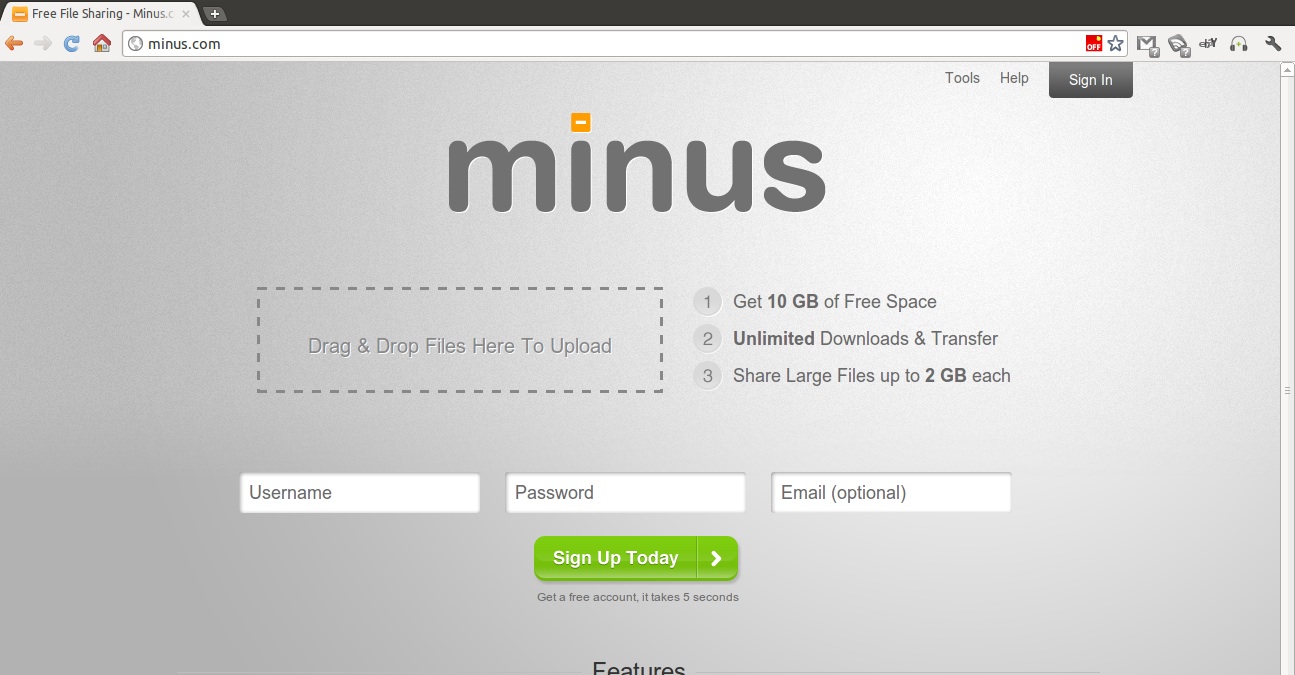 Minus offers users 50GB of free storage  and a max. upload of 2GB. You have to love Minus for just HOW easy it is. Their drag and drop interface is UX magic!  In addition to their website, files can be uploaded & accessed via the Minus desktop client, mobile apps ( iPhone, Android and Windows Phone) or  Chrome and Firefox browser extensions.
FREE: All services are free baby!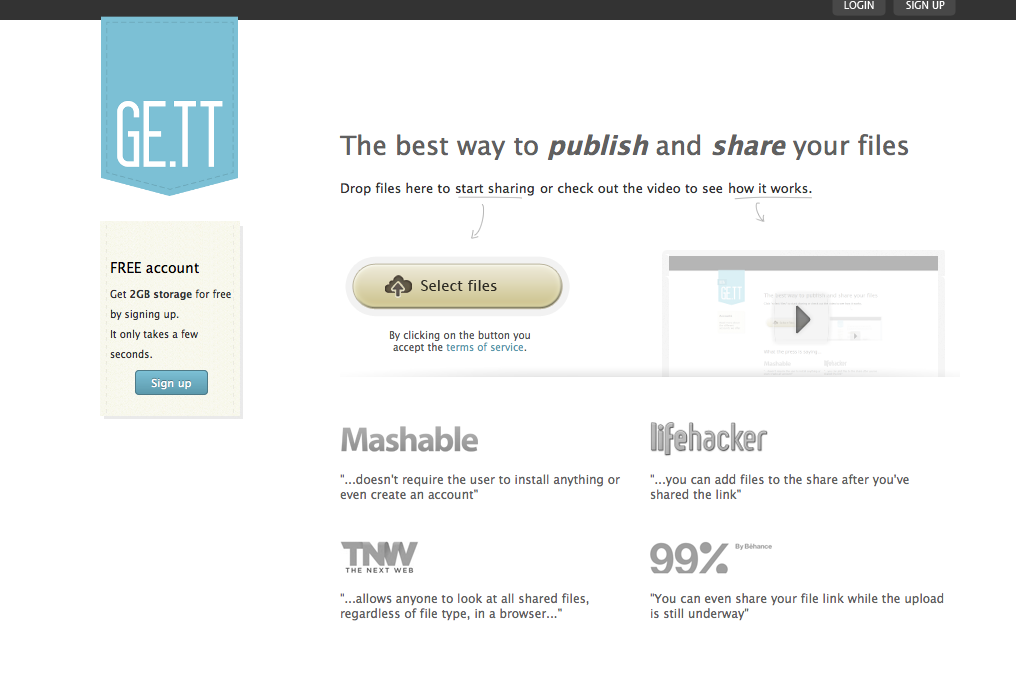 In addition to being completely free and offering limitless file size, Ge.tt's instant file-sharing webapp's brilliance is in its simplicity. Users do not have to create any account ( but users who do resister are offered extra benefits) to upload and share their files fast.  Regardless of file-type, Get.tt offers users  a "view" option for uploads which allow anyone to look at all the shared files, making it simple to search existing file inventory.  Ge.tt's service may be lesser known but with a beautiful interface, and undemanding sharing process, its definitely one to try.
FREE: Free baby!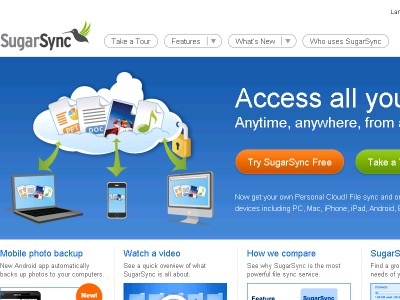 SugarSync offers users 5GB of free storage, but free user is limited to  25GB file uploads (pro users increase their max upload to GB).   Similar to Dropbox and Box, files are shared via direct links, or by emailing usrs an invitation to  join a folder
Free:  5GB of free storage,  25GB file uploads
Pro:  Plans range from $5/ month for 30GB – $25 /month  for 250GB
.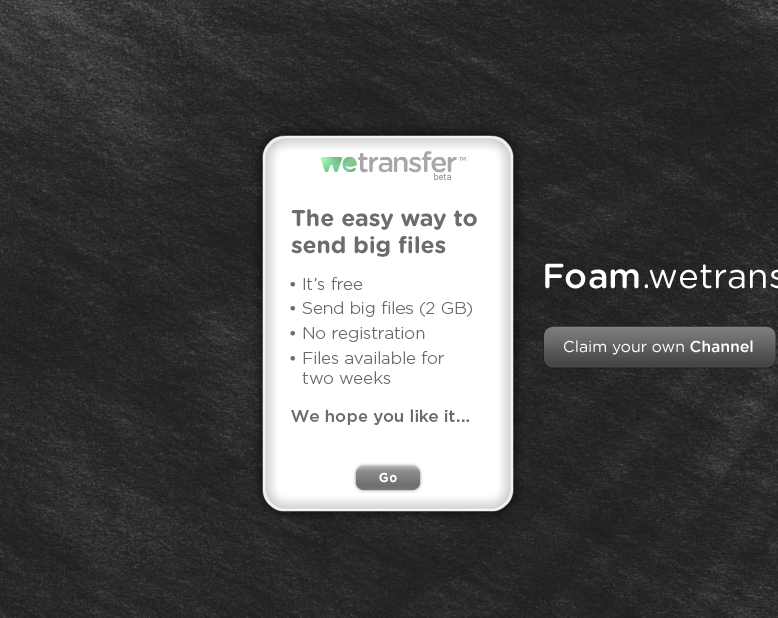 WEtransfer is a MUST have tool in your file-sharing toolbox. WETransfer is meant for those times when you need to send large documents, movie files etc whose size is too big for  email and other file-sharing services to handle.  WEtransfer allows up to 2Gb  file transfer and users don't have to set up any sort of account to use the free service.
FREE:  Everything baby!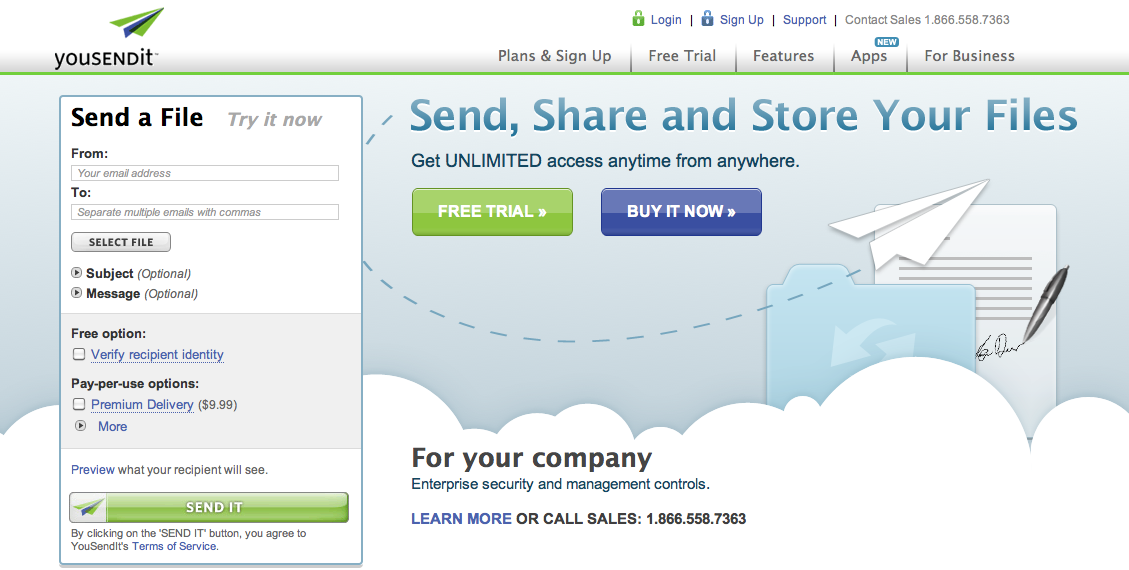 YouSendIt is one of the forefathers of file-sharing. Users with a free account can access 2GB of storage, with a per-file upload limit of 50MB.  A user's ability to share files are more limited: users can share files over email, but those with free accounts are limited to five emails a month.
FREE:  2GB of storage, max. upload limite of 50 MB and 5 email shares
PRO: $10/month – 5GB,  maximum file upload size of 2GB, and 10 shares.  $15/month – unlimited storage ,  maximum file upload size of 2GB, and unlimited shares