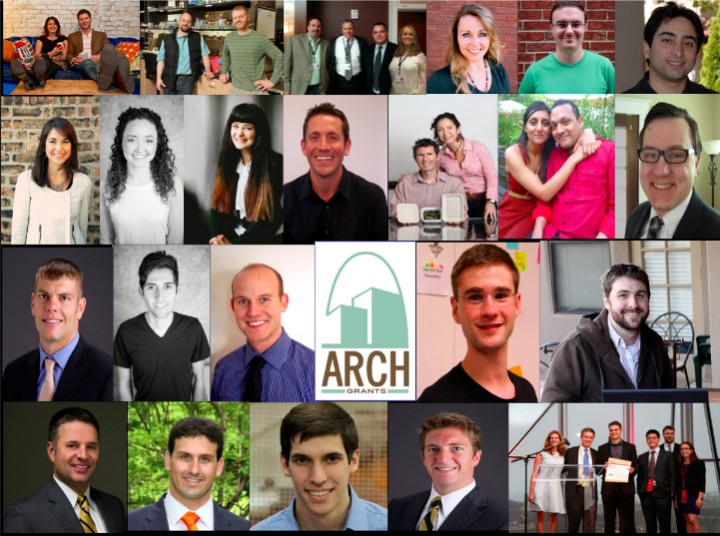 Today the recipients of the 2014 class of St. Louis' Arch Grants competition was announced at a press conference at the offices of Polsinelli.  This is the third year of the competition, and since 2012 Arch Grants has awarded more than $1.9 million in grant funding to 35 companies- 32 of which are still in operation, while one (Obsorb) was acquired – leading to $6.5 million in revenue, $17.7 million in addition capital raised, and 192 net new jobs.
Arch Grants only requirement for the equity free grant is that the recipients locate their business in downtown St. Louis.  As a result, downtown has seen a fast growing density of startup entrepreneurs and their businesses. (Speaking from personal experience, I can verify its impossible to walk down Washington Ave, Olive Street or anywhere near the Culinaria at lunch time without bumping into another startup founder).
"We're excited by the vision, execution and most importantly, the leaders of this year's class of companies," said Jerry Schlichter, co-founder and board president of Arch Grants. "These firms will help reinforce the message that St. Louis is a globally competitive city and an attractive destination for top business talent. We look forward to continuing to assist these entrepreneurs in growing their businesses."
"The success metrics of the recipient companies are encouraging," said Ginger Imster, Executive Director of Arch Grants. "Of the companies still operating today, 97% remain headquartered in St. Louis. Arch Grants-funded companies are helping to drive the narrative of a resurgent St. Louis."
Here is a list of the 2014 Arch Grants recipients, along with their founders and a quote from the company about their company moving to St. Louis.  The companies are coming to St. Louis from six different states, the United Kingdom and Colombia:
Artifox (St. Louis, Missouri): A furniture company devoted to merging quality craftsmanship with the constantly changing needs of the modern mobile professional.
BetaVersity (St. Louis, Missouri): Promotes the maker movement by offering its BetaBox; a custom prototyping pod built inside of a shipping container.
Blue Line Security Solutions (St. Louis, Missouri): Offers an affordable, practical, and reliable facial recognition system that can help protect stores, schools, offices, and entertainment venues from unwanted visitors and threats.
Cast (St. Louis, Missouri): A dedicated mobile app that allows publishers and consumers to quickly understand social opinion by creating public or private polls and observing structured response data in real time.
CoMo Medical (Columbia, Missouri): A medical device and pharmaceutical start-up offering solutions to unmet needs in healthcare.
Dabble (San Francisco, California): Provides subscribers an easy way to teach or take specialty classes on a wide-range of subjects.
Ephecom (Boston, Massachusetts): An e-commerce marketplace that gives the end-user two things: steep discounts on the products that they love, and sixty seconds to decide whether to buy or pass.
FreightGrid (St. Louis, Missouri): A web application that manages the entire LTL (less than truckload) shipping process, saving time and money for customers.
Greetabl (St. Louis, Missouri): The fun and memorable way to connect with the important people by sharing thoughtful gifts with a personal note.
Hyde (Milwaukee, Wisconsin): Manufactures the sporting equipment of the future, starting with the Wingman, a first of its kind life vest allowing swimmers to rescue themselves.
Jolt (Boston, Massachusetts): Makes wearable head impact sensors for youth athletes.
Less Annoying CRM (San Francisco, California): Makes a simple customer relationship manager (CRM) for small businesses, and is the recipient of this year's Peabody Energy grant.
LIFEPACK (Cali, Columbia): Produces and sells plates made of natural fibers (pineapple crown) and seeds that can germinate into a plant, and is the recipient of this year's Monsanto grant.
Made for Freedom (St. Louis, Missouri): Driving a social entrepreneurial mission to establish a global, online, retail/wholesale clothing business while providing dignified employment for survivors of sex trafficking.
MeterGenius (Chicago, Illinois): A free website that provides tools and incentives for homeowners to save money on their electricity bill.
Nanopore Diagnostics (St. Louis, Missouri):  Enables physicians to make informed antibiotic decisions during their initial examination of a patient.
Prattle Analytics (Boston, Massachusetts): Utilizes proprietary textual analysis methods to provide innovative financial data solutions.
Tallyfy (London, England): Makes critical business processes incredibly user-friendly and visible – in real-time with a friendly layer on top of complex tools and confusing processes.
Tuloko (Minneapolis, Minnesota):  A social enterprise focused on driving more business to minority and women owned businesses.
Wondermento (London): A digital company building apps that interact with lovingly made connected devices to create happier and healthier living for all.