In the world of brick and mortar, there is a tremendous divide between the shopping experience one has at a mom & pop boutique than that at a large retailer like The Gap, Urban Outfitters, or Anthropologie. From the design to the experience, there's no question as to whether you've stepped into the storefront of a well-known retailer or a family-owned shop.
But eCommerce is the great equalizer of business. Small companies with a well-designed high-preforming site can go-up-against conglomerates and win. In fact a mom & pop eShop that is built with great usability and design can inspire the same trust and recognition in shoppers as bigger more well-known brands. In fact more & more companies are developing affordable technologies that help smaller online merchants mimic and rival the experience of their multi-national competitors.
Here are 6 game-changing startups leveling the eField by creating affordable solutions for online merchants.
1. ASSISTLY- SOCIAL CUSTOMER SERVICE 
THE GIST:  SaaS startup Assistly helps companies easily save and organize conversations with customers allowing merchants to streamline customer service by filtering conversations, accessing customer histories, and automating processes.
WHY ITS A GAMECHANGER: Assistly arms small online merchants, like those of  their partner Shopify, with the same robust customer service software that you might expect from their large conglomerate competitors.
NEWSWORTHY:  Earlier this year,  Salesforce acquired Assistly for a reported $50 million ( all-cash) plus a reported additional $30 million in deferred payments.
2. ADROLL – RETARGETING PLATFORM
THE GIST: AdRoll allows merchants to easily retarget advertising to lost vistors and unconverted traffic.
WHY ITS A GAMECHANGER: Retargeting is an effective but often complicated marketing tool. Adroll's integration with most major shopping cart providers and 2 minutes set-up makes retargeting accessible to small online shops, and offers the same technology that Internet heavy weights like Groupon, Microsoft, Tivo, Hipmunk, and Cooking.com  trust.
COMPANY LOYALTY:  For the largest retargeting platform with over 2,000 active advertisers, Adroll boasts pretty impressive loyalty with 96% of businesses that try AdRoll staying on with the service.
3. YOTPO – OPINION AGGREGATION ENGINE 
THE GIST: Yotpo's web based reviews system aggregates reviews from hundreds of sources across the web, rank their importance, and leverage the "social graph" of their top customers to gain new customers.
WHY ITS A GAME-CHANGER: Yotpo's unique ranking algorithm gives searchers a  "personalized search experience" by connecting users with relevant reviews based on the social relation of the author and the searcher, the author's past social reactions, and the review's past social reactions.
MORE REVIEWS: Yotpo aims to not only increase the relevance of  product reviews, but also the amount. Yotpo's automatic post-purchase "review reminder" feature helps merchants rack-up product reviews by automatically reminding customers to review the item 14 days after purchase.

4. POWER REVIEWS – CUSTOMER REVIEW TECHNOLOGY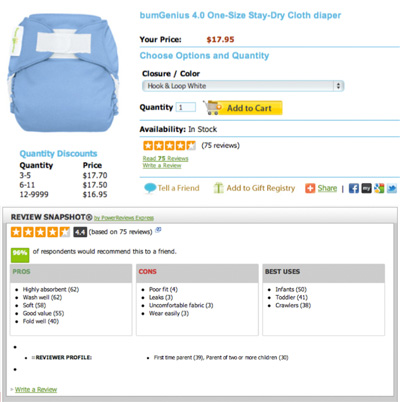 THE GIST: PowerReviews provides online retailers and merchants with an easy to implement customer review technology.
WHY ITS A GAMECHANGER: PowerReviews pricepoint makes their technology accessable to small retailers, but their solution is robust enough to boast big time clients like Staples, REI, ESPN, Callaway and Jockey.
NEWSWORTHY:  Earlier this year the  San Francisco-based startup raised $10 million led by Four Rivers Group; bringing their total venture funding to a whopping $37 million.
 5. 4-TELL – PERSONALIZED PRODUCT RECOMMENDATIONS
THE GIST: 4-Tell's software helps online merchants, like those of 3dcart, better their shopper experience and increases conversions by offering personalized product recommendations to shoppers.
WHY ITS A GAME-CHANGER: 4-tell's price-point democratizes ecommerce personalization which earns large retailers like Amazon big bucks by personalizing their shopping experiences and tailoring product recommendations to each user.
 POWER OF PERSONALIZATION:  Amazon's automated personalized product recommendations are responsible for generating 25% their total revenue.
6. FEEFIGHTERS-  COMPARISON SHOPPING FOR CREDIT CARD PROCESSORS
THE GIST: 
FeeFighters
simplifies the process of choosing a merchant account provider.
WHY ITS A GAME-CHANGER:  FeeFighters allows merchants to quickly choose the best credit card processing for their store with a reverse auction marketplace, saving the average business owner 40 percent on credit card processing.
INVESTIGATIVE DNA: The Chicago-based startup isn't just dedicated to investigating processing prices. Their smart and well-researched investigative blog post criticized and enlightened users to the BBB's pay-to-play policies. The move may have caused Feefighters their BBB accreditation, but  it gained them a reputation for being honest and dedicated to consumers.