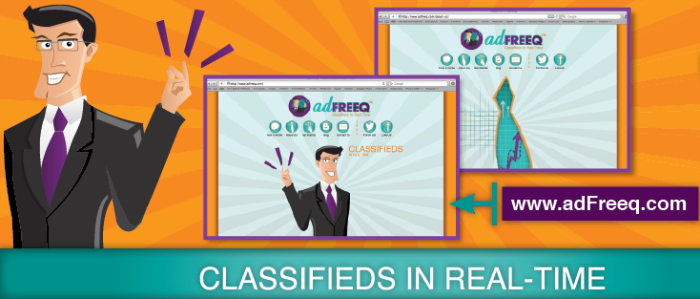 Adding a job board or a classified section to a site is an easy way to monetize business or financial content. Although this can be lucrative, it can be tedious for publishers to sell and maintain their classified sections. adFreeq wants to change the way that publishers monetize by offering a classified platform that connects people who want to buy classified ads with publishers who want to post them.
adFREEQ offers a revenue share that pays publishers every time a buyer places an enhanced ad on their site. adFREEQ's real-time classified ad platform is a JavaScript embed that is easy for publishers to implement, no matter what their technical skill level is.
adFREEQ CEO Peter Meng is a serial entrepreneur with a background in journalism and seven years in education sales and marketing at Apple. Meng first came up with the idea for adFREEQ while trying to sell items on Twitter thanks to the frustrating experience that Meng thought had a lot of potential.
The most interesting thing about this St. Louis-based startup is that adFREEQ is straddling the line between old media and new media. While Craigslist has widely been criticized as singlehandedly killing the newspaper industry by taking classifieds to the web, adFREEQ is attempting to reclaim the classified revenue model for traditional media outlets like radio and newspapers that now have a web presence.
According to the adFREEQ team, real-time is a key feature that differentiates the platform from more static job boards online. This allows time sensitive purchases like concert tickets to take place over the platform. Concert and music review blogs, for example, might benefit from selling concert tickets in real-time on their sites via the adFREEQ widget.
There are plenty of news outlets and media sites that are struggling right now, and adFREEQ's widget might be the lifeline that small news outlets need to stay in business. Capital Innovators certainly thinks so. The St. Louis-based startup accelerator recently invested $50,000 into the company.