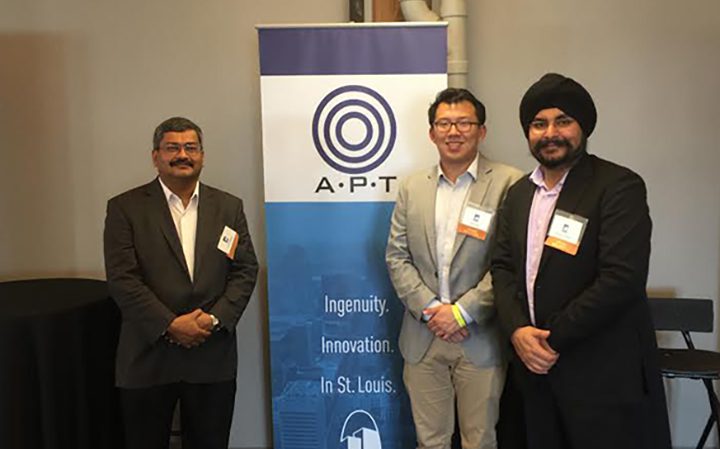 Cofounders Pratim Biswas, Jiaxi Fang, and Tandeep S. Chadha. 
Applied Particle Technology is one of the newest and most promising startups coming out of the Washington University community. Conceived by Professor Pratim Biswas, and co-founded by PhD candidates and environmental and chemical engineers Jiaxi Fang and Tandeep S. Chadha, Applied Particle Technology is a new air purification system that provides cleaner air with less environmental impact.
"Indoor air quality is something that a lot of people can relate to, and it's something that is not very well understood," explained Fang. "Even though there are a lot of different air filters out there, they're all using the same technology. Most filters are really designed for single types of pollutants, but we can eliminate all of them in a simple stride."
Using charging capture technology, the filter has ultra-high particle collection efficiency and kills any and all pathogens in a room. "It's a permanent air filter. Aside from eliminating dust particles, it can completely inactivate bacteria and viruses and get rid of gaseous pollutants." The filter also uses much less electricity than a normal air filter, which makes it less expensive in the long term, as well as environmentally friendly.
"Washington University has brought on a lot of leaders who've had success in startups that have advised us in this project," commented Fang. Along with Washington, Applied Particle Technology has also worked with business and tech incubators such as the T-Rex, Bio STL, and Idea Lab. "The best part of all of this has been the experience we've gained, and the people we've met and the help they've offered," said Chadha. "For me that's been the most rewarding."
Applied Particle Technology was made a 2015 Arch Grant recipient earlier this summer. While the product is still in its prototyping phase, Fang and Chadha foresee beginning to market it in the next year or two.
See a short interview with Jiaxi Fang and Tandeep S. Chadha.