Think Facebook and Twitter hit critical mass fast? They've got nothing on ambient location app Banjo, which just hit one million users in nine months. Banjo beat out the two social apps in the race to one million users, as well as Pinterest, Path, and Foursquare.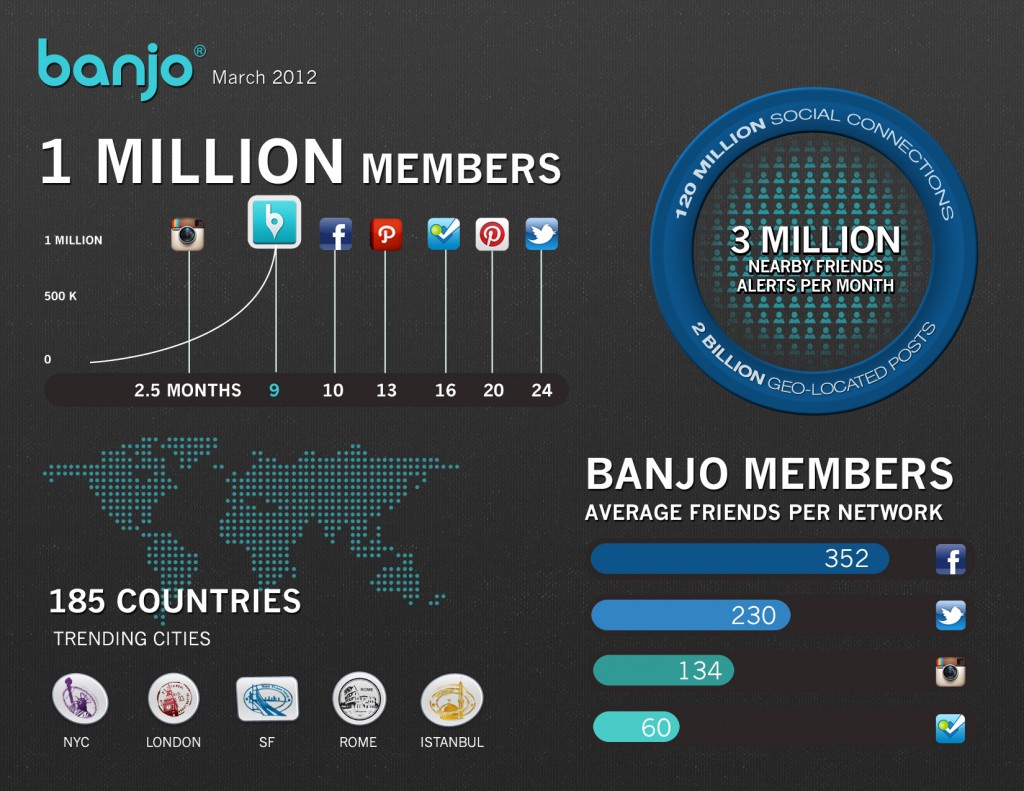 Banjo members are highly engaged, and our growth validates our mission to ensure people never miss a connection or event anywhere in the world," said Damien Patton, Founder and CEO of Banjo.
Ease of use along with cross-platform and cross-network access allowed us to hit the one million member mark at an exceptional rate."
Banjo is a mobile app that gives users "social superpowers" by allowing you to see publicly shared location information all over the globe. The app was not as hotly discussed in the days before SXSW as competing ambient location app Highlight was, but users have found a greater utility for Banjo outside of massively attended events.
Two key features of Banjo include friend alerts and the ability to consume location-based content from anywhere in the world. Banjo shows users what friends on their favorite social networks have been up to during the last 24 hours. The app also alerts users when any of those friends are nearby so there is never a missed opportunity to connect.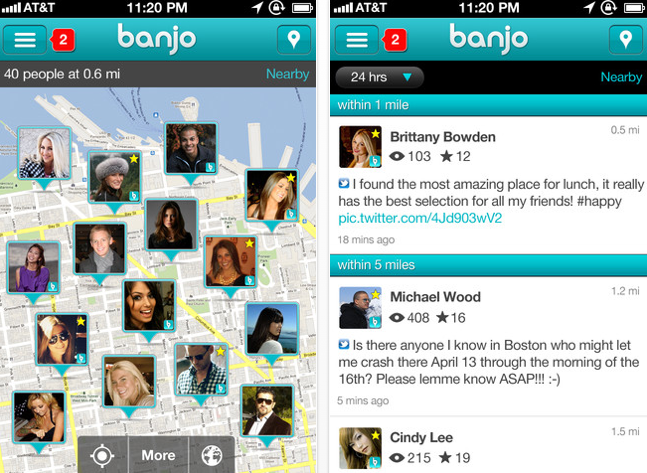 Patton came up with the idea for Banjo while experiencing a missed connection himself. While at Boston's Logan airport, he realized that one of his college friends was only two gates away from him while he waited to board a flight. His friend posted his location information on a social network that Patton didn't check until he got home. He was so disappointed that he missed the chance to see an old friend who was so close, that he decided to get to work creating a location-based app that pulled in data from all major social networks.
With events like the summer Olympics around the corner, Banjo gives people around the world a way to discover all of the social content and photos coming straight from London. Reporters and journalists from networks like CNN have used Banjo to crowdsource on the ground reporting of news by using keyword searches that return live social media updates in seconds.
Jennifer Peck, Director of Engagement for the company, noted that she used Banjo to keep up with political candidates as they travel throughout the U.S.
Banjo recently released version 2.0 of its free app for Android and iPhone, which includes a sleek new user interface and improved friend alerts. The company is not focused on monetization, but instead is 100 percent focused on user acquisition and product development. Judging from the organic user growth numbers, the small team hailing from Redwood City, California is certainly onto something.
[Correction: An earlier version of this post stated that the political candidates themselves were using Banjo. The statement has been corrected to clarify that users are following candidates on Banjo.]