This week digital loyalty rewards program Belly announced that it has secured $10 million in Series B funding from venture capital firm Andreessen Horowitz. Belly allows any participating business to provide rewards to their most loyal customers, bringing a variety of businesses into one digital space and eliminating the need to stuff your wallet with punch cards.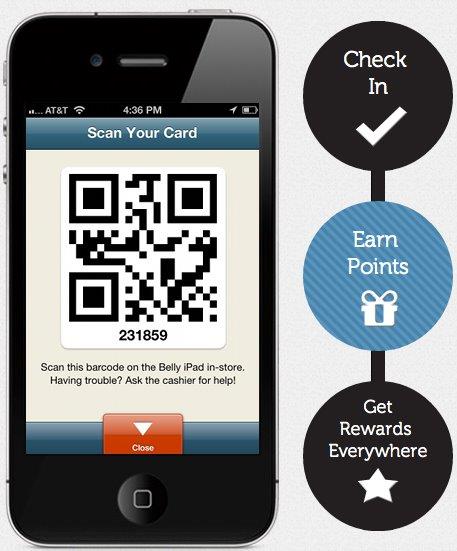 The service works through iPads placed at the counter of retail stores, which customers can interact with using their smartphones or a Belly card. Over time the customer unlocks store-specific deals and perks, some of which are truly unique. For instance, at Alleycat Comics in Chicago, the owners provide a perk in which any customer who accumulates 250 points can "punch a staff member of choice in the stomach."
Belly got its start in the Chicago retail scene, which Logan LaHive, Belly's founder and CEO, believes to be a true "proving ground" for startups. LaHive pointed to the number of small and medium-sized businesses in the city, each with their own personality and character, as being important to the development of the company in its early stages. The diverse number of businesses in Chicago allowed Belly to establish great relationships with a variety of store owners and their respective customers, and scale its service accordingly.
"If we could do it here, we could do it anywhere," LaHive said.
The company only launched in August of last year, and has already signed up more than 1,400 merchants and 200,000 customers who have checked in 800.000 times since its launch. Belly has since expanded outside of Chicago into cities across the country including Austin, Phoenix, New York, and Miami, and is currently adding over 100 new businesses each week.
Belly plans to use the newly acquired funds to expand and grow its customer rewards program to even more cities. Jeff Jordan, former chairman and CEO of Open Table and former president of PayPal, will join the board following the VC investment.
In a blog post, titled Fire in the Belly, Jordan wrote:
I'm proud to join Belly's board and will be actively working with the Belly team on a rewards program for achieving their key milestones.  My current favorite: The team gets to pie our own Mr. Andreessen after adding their 10,000th merchant.
When asked about the VC firm's investment, LaHive called it a "validation" of the company's model and execution. "Andreessen Horowitz has a reputation for picking winners," he said.