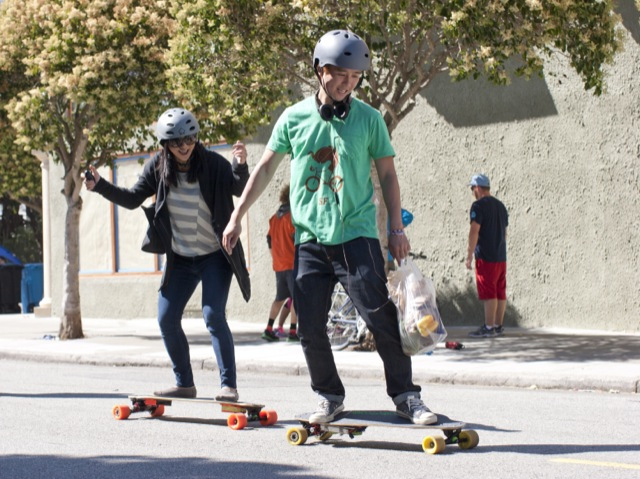 Anyone who's been looking to get their hands on a shiny new electric vehicle may find the most affordable option yet in a new Kickstarter project out of Silicon Valley. Palo Alto company Boosted Boards is raising money to begin production on a revolutionary lightweight self-propelling longboard that runs on an electric battery.
Touted as the lightest electric vehicle ever, the current prototype only weighs about four lbs more than a typical longboard. The technology enables the rider to travel up to 20 mph on a charge that will last around 6 miles before needing to be plugged in again. To make sure the board doesn't go off the rails, riders can use a wireless controller to accelerate and slow down the board underneath their feet. Best of all, the board uses standard outlets to recharge and can juice up again completely in as little as two hours. Boosted Boards estimates that a rider will spend less than $5 per year on charging expenses.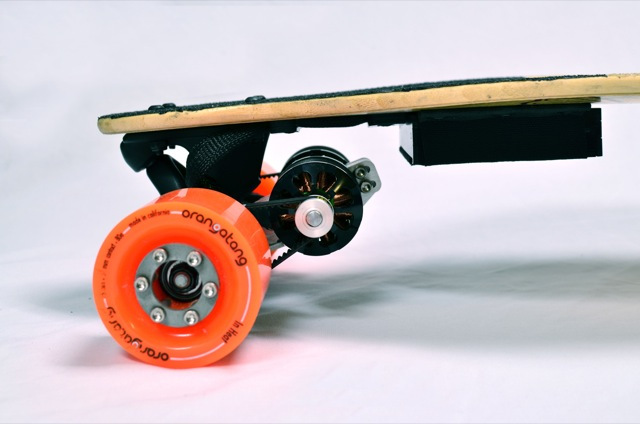 The largest issue the company is looking to solve is the inconvenience of everyday commutes, half of which are only 5 miles in length. Boosted Boards believes that these every day micro-commutes need a much more basic and portable solution than taking your car out every time you need to run an errand or head into the office. Through the board's portable design, the company is additionally hoping to make public transit more appealing to those who don't have quick access to bus or train routes.
"The last mile of transportation is this huge problem that hasn't been solved yet," said co-founder Sanjay Dastoor. "Once you get off of a public transit system, whether it's a bus or a train or anything else, how do you get along that last mile to your destination? What Boosted Boards does is it gives you a really portable vehicle that you can use in conjunction with public transit."
The Kickstarter is looking to raise $100,000 to cover production costs, with boards rolling out in phases over the next year. Backers who fork over $1,099 now can get their hands on the first production run in May, and any supporters who come along after that will receive boards as they become available. Brave investors who can't wait until the first run can pay $1,499 to get in on the beta program two months before everyone else.
Check out the Kickstarter page to find out more about all the rewards available to those supporting the world's lightest electric vehicle.