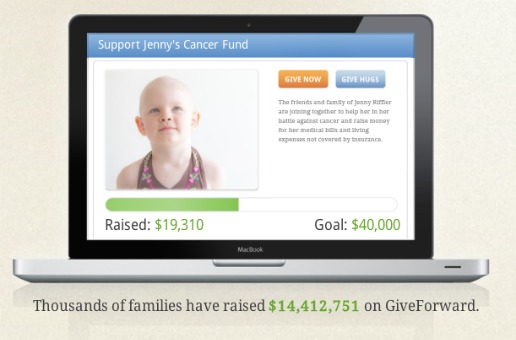 Venture Capitalist and Boulder startup scene staple Brad Feld made a commitment to himself to run 50 marathons by the time he turns 50. He already has 21 marathons in the bank, and he's using the last 29 races to raise money for sick families in need on the fundraising platform GiveForward.
This week, Feld announced that together with his wife Amy Batchelor, he will donate at least $5,000 per marathon in a random act of kindness to an individual raising money for a medical crisis on GiveForward. According to Feld, the goal is to inspire people to follow his lead:
My hope is that this inspires others both contribute to these random acts of kindness as well as create some of their own."
Feld was inspired to use GiveForward to donate after meeting the company's co-founder Ethan Austin at Lindzonpalooza. Feld, who is the co-founder of the startup accelerator program Techstars, had recently witnessed the emotional and financial toll that illness can have when his close friend Andy Sack was diagnosed with testicular cancer. Sack is now back in his role as the Executive Director of Techstars Seattle and is fully recovered after his treatment. The impact of the experience was unforgettable, and Feld decided to get involved with the GiveForward team to make sure that families would not have to suffer financially during a difficult illness.
GiveForward's mantra is "create unexpected joy." The team is so committed to this goal, that it's proudly displayed on a large wall in their office. Launched in August 2008 by Austin and his co-founder and CEO Desiree Vargas Wrigley, GiveForward had a hard time seeing traction at first. The duo wanted to launch a fundraising platform, but they wanted to allow users to fundraise for anything. Wrigley became interested in fundraising alternatives to the Red Cross after Hurricane Katrina. She wanted to find a way to donate directly to the people in need.
Austin realized the power of fundraising on the web after deciding to run a marathon to raise money in memory of his father. He became infamous in the Washington D.C., area for promising to run the marathon in a banana suit if he raised $5,000. He raised even more than that, and was surprised by the power of inspired giving.
"I was blown away that an idiot in a banana costume could raise $6,000," he lightheartedly recalls.
In 2009, the team realized that there was a tremendous need for families to raise money for medical expenses after one user raised $30,000 in 30 days using GiveForward.
"We suddenly knew that there was something way more powerful about people giving directly to people" notes Austin.
Since you don't have to know the person behind the fundraiser to help, Feld is specifically donating to people who inspire him the most. His first donation is going to a page called Kicking Cancer, which belongs to Justin Salcedo from Devine, Texas. Salcedo is described as, "a good athlete, a good son, and a good friend to everyone. Always has a smile on his face." He is also battling testicular cancer.
On his blog, Feld notes that the goal is to raise at least $10,000 for Justin by May 31st.
Let's do this for Justin and show the world how the power of a community can deliver random acts of kindness. If you can't afford to donate, I urge you to share Justin's GiveForward page on your Facebook wall or give Justin a "virtual hug" by leaving words of encouragement on his page. Neither of these things will cost you a dime but they might mean the world to Justin."
The ultimate goal of the GiveForward team is to unify collective good on the internet. They have already made a tremendous difference in the lives of many families. To date, 190,000 people have donated via GiveForward. More than 12,500 people have received a total of $14 million. Help Feld and the GiveForward team make an even bigger difference by participating in Feld's random acts of kindness.