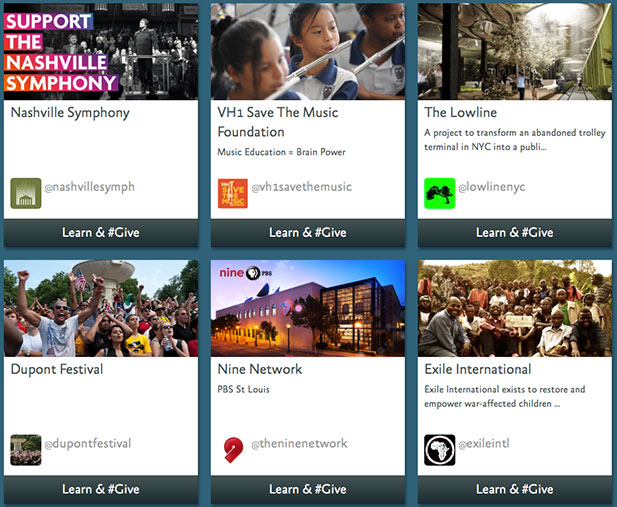 Today, July 15, is Social Media Giving Day in various cities and one entire state in the US. But what the heck does that mean, and why should you care?
"This had better be important," we hear you say. "I already have plans to celebrate the 25th anniversary of Die Hard that day." But trust us. Bruce Willis can wait the few seconds it will take you to make a serious difference for charities.
All it takes is one tweet on Twitter.
That's it. It's that simple. It's that quick.
Here's how it works. The first step is visiting Givver.com. A donor signs up for Givver at Givver.com using their secure form. An organization signs up for Givver at Givver.com. The donor and the organization run towards each other across the open field of digital daisies and embrace with a simple tweet. "#Give $10 @RallySTL" the donor gushes via their Twitter account. The donation is given and the charity walks off, ready to do more good things in the world. The donor turns on Die Hard.
And Givver doesn't charge a fee to either the donor or the charity, so extra orders of happiness are dished out to everyone.
"There are so many charitable organizations doing essential work year round," Chris Sommers, cofounder of Givver and the inventor of pizza, said. "But the summers tend to be slow and thus we hope Social Media Giving Day on July 15 will have a significant impact on charities and enable them to do even more in our communities."
You can see all the organizations that are accepting donations via Givver.com at https://givver.com/organizations.
To date, declarations establishing Social Media Giving Day on July 15 have been made by Governor Jay Nixon (Missouri), Mayor John Sorey (Naples, FL), Mayor Buddy Dyer (Orlando), Mayor Nancy McFarlane (Raleigh, NC), Mayor Mark Mallory (Cincinnati), Mayor Tom Barrett (Milwaukee), Mayor Jacques Roy (Alexandria, LA), Mayor Sam Kooiker (Rapid City, SD), Mayor Dan Snarr (Murray, UT), Mayor Francis Slay (St. Louis), and the entire City Council in Pittsburgh, PA.
"Particularly amongst millennials, there's an inherent connectivity between social media and charitable giving," said Sommers. "And all types of organizations recognize that social media goes well beyond snapping pictures of your breakfast or updating which restaurant you're sitting in, so we hope that Social Media Giving Day ultimately gives greater, more tangible meaning to the use of social media."
So get out there, make a donation via Givver and Twitter, and then give your best Bruce Willis impression for extra cool points.