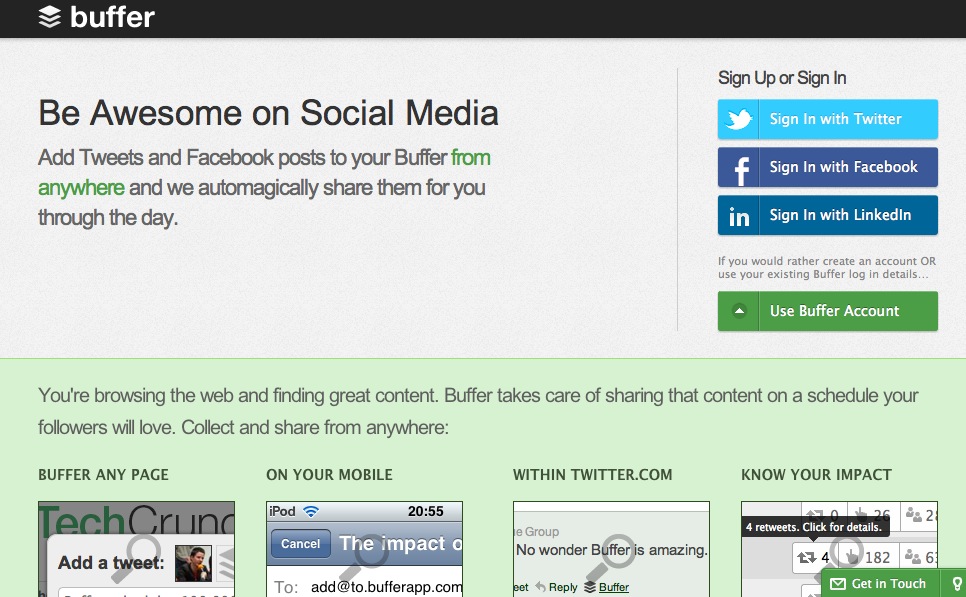 THE GIST: Buffer is a great service for all those timing-conscious posters out there. Anyone who's ever been worried about their tweet getting buried because they posted it too late in the evening, or that posting a reply too early makes them look like a virtual creeper, can find solace in Buffer's nifty and simple mechanic of delaying and scheduling your posts across Twitter, Facebook, and LinkedIn. Once you've written a post in the application you can either choose to post it immediately or schedule the post for later by hitting the buffer button. The web-based program allows you to set up a schedule for when it will post throughout the day, and even lets you vary the schedule specifically by days of the week. You can set up as many tweets as you like to be scheduled throughout the day, even from multiple accounts on the same service (at additional cost). The program goes even further to show you analytics of your scheduled tweets, detailing the number of retweets, link clicks, and impressions for each post you make. This data will then allow any user to figure out which posts are most effective, and more importantly, at which intervals throughout the day people are looking at their posts. It's an extremely useful app for both companies looking to increase their social networking effectiveness, along with any average poster looking for followers. For instance, today I came up with a post about a crazy delicious and filling dinner I had last night, but as it's 10 in the morning I felt I should wait until after lunch to post it to prevent any confusion (@yeroooc hamburgers for breakfast?? get it under control!). Instead of hovering over my Twitter feed like a geek, I can use Buffer to schedule the tweet and forget about how embarrassingly self-conscious I can be.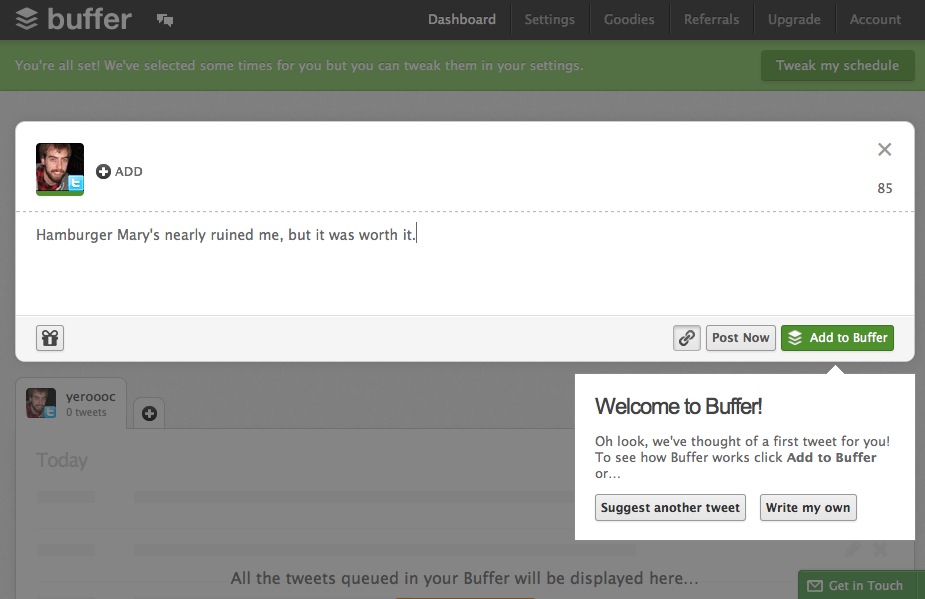 FOUNDERS: Buffer was founded by Joel Gascoigne and Leo Widrich.
BACKSTORY: So far Buffer's story has been a rather complicated one. The UK founders moved to San Francisco in 2011, but were soon booted from the country due to visa problems. They're currently running out of Hong Kong while they look to settle their immigration issues, though it doesn't seem to have deterred the company's success; before leaving the US the startup secured $400,000 in Angel funding.
BUSINESS MODEL: Widrich explained that buffer currently runs on the freemium model:
Our main plan is free and we also have a $10 if you need more than 3 profiles connected. For unlimited profiles and teammembers we also have our $99 dollar plan.
INVESTORS: During its time in the US, buffer found 19 Angel investors,whom Widrich said "couldn't be any more diverse in nature." Some founder highlights are Jay Baer, an author and number three social media consultant worldwide, Andy McLoughlin, co-founder of Huddle, and AngelList designer, Graham Jenkin. The full list can be found on Buffer's blog.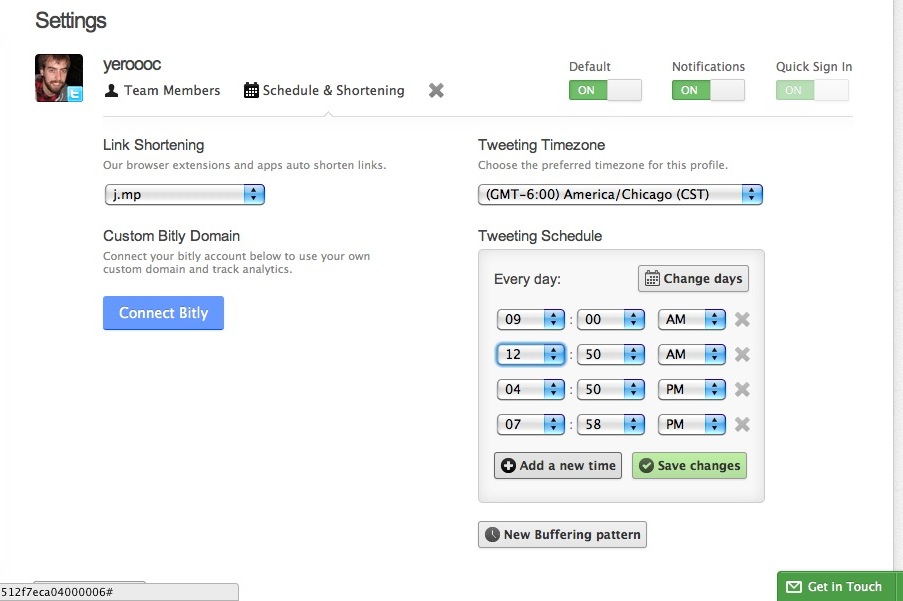 TARGETED CUSTOMERS: Widrich gave a great list of personas for whom he feels the service is perfect. They are as follows:
Mary is reading a lot of great content every day, but doesn't want to flood her followers and friends with too much of the good stuff at once. By using Buffer, her shares will be spaced out and posted at optimal times. She simply Buffers everything she finds and makes anyone following her happy and herself awesome on Social Media.
Ben is using Social Media for his business and needs to save time on posting interesting stuff. With Buffer, he can spend a few minutes filling up his Buffer queue and will be sure to keep his fans and followers posted with great content day in day out.
Tanya is managing lots of different Social Media accounts and also collaborates with others on some non-profit and agency accounts for updates. With Buffer she can add to lots of different accounts all from one place and add team members, to make consistent sharing easy for her.
ON THE COMPETITION: "I believe we are very focused on the actual aspect of publishing. So, all you have to do is 'add to Buffer' and nothing else. It will get added to your queue and posted at a better time well spaced out over the day. We also offer some really cool ways to Buffer your content. There are browser extensions, and the Buffer button for blogs to make it easy for you to Buffer from wherever you are."
INSPIRATION: "The original inspiration for Buffer came from Joel, when he was looking for a smarter way to share his Tweets of great articles he was reading throughout the day. Whilst he tested some tools such as HootSuite and TweetDeck, their posting mechanisms were all a little clunky. With Buffer, the goal was to just make it much easier and simpler than ever before."