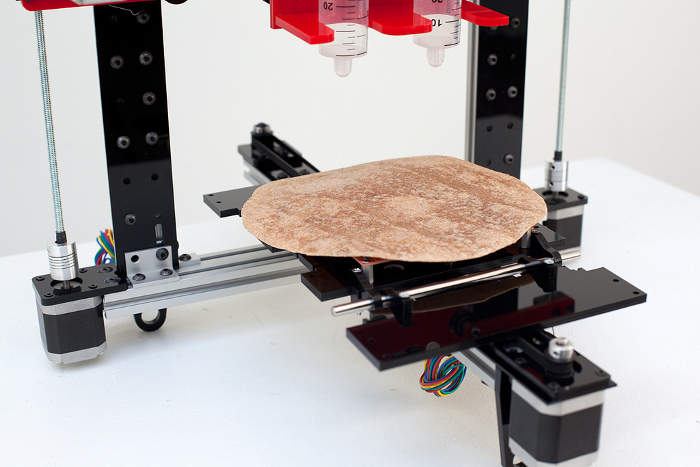 A much-talked-about 3D printer designed specifically to fabricate burritos is just a stepping off point for recent NYU graduate Marko Manriquez, who hopes to use the technology to research gastronomic science, economic inequality and culinary arts.
Mechanizing the burrito assembly process, Manriquez said, allows for precise control of ingredients – which can be mapped out as volumetric pixels of food and compared with existing datasets. He's also interested in using the data users put into the machine, which can be controlled with an iPhone, to gather information on popular ingredients and combinations on a local level.
Those types of information, which Manriquez called "dear to my heart," could be used for a range of research purposes. One use that interests Manriquez is fleshing out abstract economic and philosophical questions about food.
"How much larger is a 1st world burrito vs a 3rd world one if we're printing based on average daily caloric intake?" he asked. "How would it taste? How is [it] different to taste (and feel) a data representation vs merely viewing one as a graph?"
In addition to interests in robotics and engineering, Manriquez is an avid gastronome. He hopes that research into 3D printing cuisine will push the boundaries of culinary art as well as science.
"The other advantage is that it allows a chef to print forms impossible or unrealized by traditional cooking methods such as complicated geometries or fun shapes," Manriquez said. "As we know from the myriad shapes of pasta for example, that shape informs flavor, mouth feel and how the surface of a food interacts with sauces/salsa. "
The choice to focus on burritos was part whimsy, part cultural (many worldwide cuisines, Manriquez said, contain items arguably analogous to the burrito) and part practical, since common burrito ingredients like refried beans and guacamole can be extruded through fabrication equipment (chunky salsa, unfortunately, needs to be blended before it will flow smoothly.)
The BurritoB0t prototype was demonstrated at the ITP Spring Show at NYU. There are no plans to commercialize the device – though Manriquez says he might build one for sale on a case-by-case basis – but he plans to launch a Kickstarter campaign to fund further research. Manriquez is also planning an exhibition in which a five-course meal will be prepared and served by machines.